Posted on
Sun, Jul 22, 2012 : 5:55 a.m.
Ann Arbor Art Fair a critical part of the community
By AnnArbor.com Staff
For the 53rd straight year, Ann Arbor hosted an outdoor art fair last week, and somehow the town is still standing.
The perennial complaints that the Ann Arbor Art Fair generates would almost be enough to make a listener wonder how that's possible: It's too crowded. It's too commercial. It's too hard to get around. It's not real art. It's too big. And so on.
Whoever first said that "it's not art and it's not fair," definitely hit a rich vein of sentiment that annually raises the blood pressure in many local residents, while spurring many others to leave town entirely.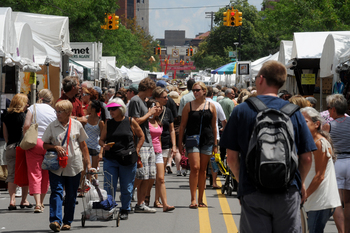 To each his own. But now that the booths are gone for another year, it's worth reflecting on what the fair really means to Ann Arbor.
• It's an economic engine, of course. Yes, results are mixed; the nature of some businesses doesn't fit well with the art fair crowds, and they end up closing for four days. But while the overall impact is impossible to measure, an estimated half-million visitors to town, credit cards in hand, must be considered an overall economic win in the dog days of July.
• It builds the community's reputation. The fair draws lots of press coverage, some of it national. It helps keep Ann Arbor in people's minds as a place where interesting things happen. And it showcases the city to all those visitors, maybe suggesting return visits down the road.
• It's got lots of intrinsic value. If the fair is not your thing, that's fine, but you're missing out. There is a lot of amazing work on display every year, and some of it surely does qualify as fine art. Even if you consider much of the rest to be craftsmanship rather than "art," so what? There's a tremendous amount of admirable work to be seen. And beyond the art, the other attractions—free music stages showcasing talented local performers, the people watching, even the sidewalk sales—are all perfectly valid as well.
So, sure, the complaints are understandable. But this is a remarkable thing that happens in our midst every year. The artists, staff people, volunteers and others who pull together to make the Art Fair happen deserve our thanks and appreciation. And so does the event itself.