Posted on
Thu, May 10, 2012 : 12:32 p.m.
Ann Arbor needs to get up to speed on its speed limits along main roads
By Guest Column
Steve Pepple | AnnArbor.com
Ann Arbor is five years overdue to bring the posted speed limits on our main roads into compliance with state law and accepted engineering practices. The city should set the posted speed limits that maximize safety and the smoothest traffic flow.
The Michigan Legislature passed Public Law 85 of 2006, effective Nov. 9, 2006. This revised the Michigan Vehicle Code to add a new method for cities to post legal speed limits using a sliding scale of access points (driveways and intersections) to post realistic speed limits of 25, 35, 45 or 55 mph proportional to the level of road development.
This method was in addition to the one using an engineering and traffic investigation including speed studies to find safest 85th percentile travel speed that is authorized for cities which have adopted the State Police Uniform Traffic Code (Download PDF document ). Investigations are usually used by the State Police and the Michigan Department of Transportation (MDOT) or the county road commissions to post safe and realistic speed limits on our highways and county roads, including when they pass through cities.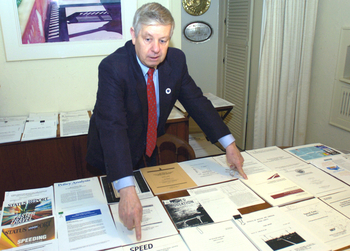 Both methods are designed to post safe and realistic speed limits, and to prevent posting artificially low speed limits that define most drivers as violators, which just facilitates speed traps. In some cases, the engineering investigation is better because it is more precise. Traffic engineers have known for 70+ years that the safest speed limit to post in most cases is the 85th percentile speed of free flowing traffic under good conditions. This defines the super-majority of safe drivers (85%) as legal, so police can concentrate enforcement on the small percentage of unsafe drivers who are well above the normal speeds of travel that have proven to be safe and comfortable. Download the state police booklet "Establishing Realistic Speed Limits" at
www.michigan.gov/speedlimits
to read the science.
The Ann Arbor City Council and Project Management Department do not follow either method under state law, nor do they use the best-accepted engineering practices, to set safe and realistic speed limits. The city posts most main road speed limits around the 30th, the 20th or even below the 10th percentile speeds of traffic, which arbitrarily defines 70 percent, 80 percent or 90 plus percent of drivers as violators when traffic is free flowing.
These ultra low posted limits do not enhance safety, but they satisfy residents who do not understand that posted limits have almost nothing to do with safety or actual travel speeds, particularly at the upper end of the travel speeds scale. City officials do not explain to residents that raising or lowering posted speed limits by up to 15 mph will change 85th percentile speeds by not more than 3 mph, and usually by 1 mph or less. The only change is the speed at which tickets can be given, and most speeding tickets go to safe drivers at normal speeds when posted limits are set too low.
As one example, the City Council strongly objected when the State Police and MDOT corrected the speed limits on two segments of Washtenaw Avenue (Business Route I-94) in April 2008, from the former 30 and 35 mph to the current 40 and 45 mph to match actual and safe 85th percentile traffic speeds. The 85th percentile travel speeds remained unchanged (plus or minus 1 mph). The only thing that changed is these segments are no longer the speed traps they were before April 2008, when the former limits arbitrarily defined about 90 percent of drivers as violators.
Another driver and I challenged speeding tickets in 2007 on Huron Parkway and Nixon Road, received against the artificially low posted speed limits which became illegal after PA85 took effect. We prevailed in 15th District Court in 2008 and our tickets were dismissed. (See: http://blog.mlive.com/annarbornews/2008/08/speeding_ticket_challenge_uphe.html) The city appealed my dismissal to Circuit Court, and the dismissal was upheld.
Yet, right up to today, the illegal posted limits on Huron Parkway and Nixon Road remain unchanged. The city continues to issue speeding tickets in these and other speed traps, secure in the knowledge that most people do not understand how to legally object in court. Most improperly ticketed drivers continue to pay fines they could have dismissed if they knew how to object legally to the arbitrarily low posted limits that do not conform to state law or proper engineering practices.
Some 5 1/2 years after the adoption of Public Law 85 of 2006, the city has done nothing to change any of its main road posted speed limits to reflect maximum safety, accepted engineering practices or to comply with state law. This total lack of action does not inspire confidence in the City Council or the Project Management Department regarding this traffic management issue.
James C. Walker is an Ann Arbor resident, a board member of the National Motorists Association and executive director of the National Motorists Association Foundation (www.motorists.org).