Posted on
Mon, Oct 29, 2012 : 7:16 p.m.
Ann Arbor needs to keep a strong female voice on the circuit court
By Letters to the Editor
I am voting for Carol Kuhnke for circuit court and here's why.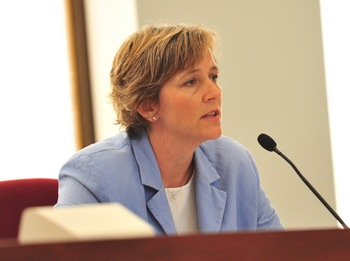 Ryan J. Stanton | AnnArbor.com
Carol has all the qualities needed in a judge. If you were involved in a civil, criminal or domestic case you would want her to be your judge. She has an extraordinary mind, is able to go to the heart of any issue, understand it, and arrive at the right result. Lawyers I have spoken with give her the highest possible marks—even those on the other side of cases.
Carol's views are right for this community. She is progressive, pro-choice and pro-marriage equality.
Carol is the only woman running to fill the seat being vacated by Melinda Morris, who has been the only woman to ever serve on the five-member circuit court bench. We need to keep a woman on the bench. A woman's voice must be heard in the court's weekly private sessions and there must be a judge to hear other cases where other judges disqualify themselves. We don't need to return to an all male bench.
Carol is an active volunteer participant in our community and in the Ann Arbor Public Schools, which her two adopted children attend. She is a single mom but always finds time to help her kids with their homework. For 20 years she has been working full time as a busy lawyer trying cases in courts in Southeastern Michigan. She also is volunteer chairperson of the Ann Arbor Zoning Board of Appeals, a board on which she has served for a dozen years. She treats every person coming before that board with respect and courtesy and is very patient in hearing all of the facts before helping the other members of the board reach the right result. She also is a volunteer election commissioner for Washtenaw County.
I urge you to vote for Carol Kuhnke on Nov. 6. Please remember to turn the ballot over and vote the non-partisan portion. Your vote for a straight party ticket does not include a vote for any judge.
Ray Detter
Chair, Downtown Area Citizens Advisory Council
Ann Arbor