Posted on
Sun, Jun 3, 2012 : 5:58 a.m.
Ann Arbor school district must make tough choices about future of busing
By Tony Dearing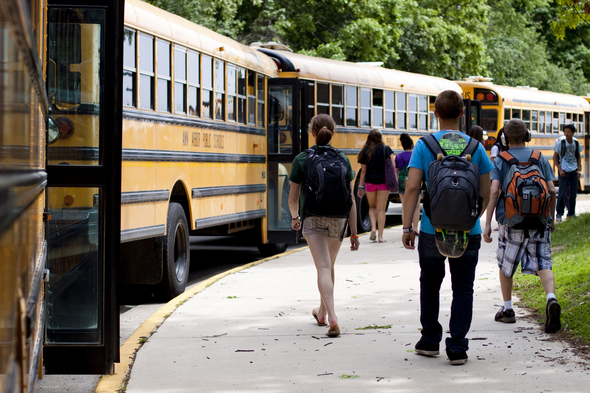 Jeffrey Smith | AnnArbor.com
There are only hard choices ahead. That's the dilemma facing the
Ann Arbor Board of Education
as it continues to wrestle not only with a potential deficit of some $18 million in the coming school year, but the likelihood of a similarly large deficit again at this time next year.
For now, it appears the board is prepared to make about $5 million in cuts for 2012-13. The remainder of the deficit would be erased by tapping its fund balance for about $7 million, as well as bringing in about $6 million in new revenue.
The school board cannot continue to defer the kinds of deeper cuts that the administration keeps proposing - particularly in the area of bus transportation.
This approach may carry the district through another year, but it is not sustainable. The board cannot continue to defer the kinds of deeper cuts that the administration keeps proposing - particularly in the area of bus transportation. Board members seem to understand that, and have appointed a working group to
study transportation costs and services
and make recommendations by early next year.
Such a strategic review of bus service is, if anything, well overdue. Transportation is a major cost for the district - about $5.6 million annually - that pulls dollars away from its core mission of instruction. That makes it an obvious target for budget-cutting. This is the second year in a row that the administration has asked for fairly radical reductions in bus service, and the board has balked, choosing lesser cuts instead that still leave parents unhappy without achieving the kinds of savings the district needs.
The working group, which will be appointed by Superintendent Patricia Green, will consider solutions as severe as eliminating bus service for high school students, or even eliminating it for all grade levels. These would be hard choices, but when it comes to the school budget, there are no easy choices left.
Given that an estimated 70 percent of high school students don't use school buses, and given that we have an excellent public transportation system in the Ann Arbor Transportation Authority (which will be represented on the working group), there ought to be possible solutions here that save money while addressing the transportation concerns of lower-income or single-parent families, as well as concerns about safety and traffic congestion if more kids are driving to school or being dropped off by parents.
Ann Arbor is a community filled with smart, involved parents and we are optimistic that a working committee with the right mix of representation can come up with workable recommendations. We think it's particularly important that the work of this committee is wrapped up next January, as envisioned. One of the biggest miscues we've seen in recent years is attempting to plan and implement transportation changes over the summer, when schools are closed and parents are hard to reach and communicate with. Having a solid plan well before budget discussions begin, and well before school lets out, offers the best opportunity for good decisions and a smooth transition.
(This editorial was published in today's newspaper and reflects the opinion of the Editorial Board at AnnArbor.com.)