Guest Column - John Austin
Ann Arbor's Community High is a model for education reform
Posted on Sun, Feb 14, 2010 : 8:09 a.m.
Michigan's economic and budget woes are forcing all local school districts to make tough choices. As vice president of the Michigan State Board of Education, and an Ann Arbor schools Dad three times over -- I have a strong interest in making sure we use this year to reform our tax and budget policies to raise the money we need to invest in our schools, including Ann Arbor.
In the short-term I do want to make sure that as Ann Arbor schools look to economize, we don't accidentally kill any educational golden gooses. One such fowl is Community High.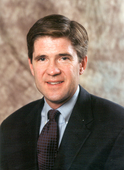 Confessing a personal bias (I've had two teenagers matriculate there), but also with a well-informed view of where we in Michigan and the nation are going in terms of effective school reform, I believe Community High is a thriving example of the future of education for Michigan and the nation.
Consider:
• Each year it is over-subscribed. Parents and students enter a 3-to-1-chance-of-winning-the lottery to get in -- this at a time (high school) when many families flee public schools for privates or charters.
• The smaller size, personal attention of faculty, special courses taught by community experts, fantastic college counseling, and proactive encouragement of students to dual-enroll and take courses at the University of Michigan, Eastern Michigan University and Washtenaw Community College -- all make for a dynamic, motivated, and successful student body. Very few kids get "lost," and no worthwhile learning opportunity is out of reach.
• The ultimate test is in the academic outcomes. No matter what you think of Michigan's new rigorous high school exit requirements, the bottom line is Community High -- as "alternative" as it may be -- delivers the 2nd highest Michigan Merit Exam test scores in the state. Community's student body is slightly less diverse racially and socioeconomically; a self-selection bias on the part of applicants Community works to overcome. The answer to Ann Arbor's stubborn achievement gap, however is to get more students into environments like Community, not fewer.
Pioneer, Huron and (hopefully Skyline as it develops) provide excellences, opportunities, and experiences different than Community. Rich and rigorous math, science, and other advanced courses; state leading arts and music, sports, clubs and extracurriculars galore, along with great traditions, and diverse student body. They work great for a lot of young people.
However, it is still more likely for a student to check-out, to be one of the crowd, to never find their footing, nor be challenged by a caring adult to reach higher, in the larger, more anonymous comprehensive high schools. Counselors are woefully outnumbered. Motivated students backed by organized parents get what they need. Others too often don't.
This is no one's fault, it is just a reality of how the high school was organized for industrial-era education -- like our big factories -- when the comprehensive high schools was first conceived 100 years ago. This is why today's national high school reform movement -- with champions such as Bill Gates and the Gates Foundation and President Obama's Secretary of Education, Arnie Duncan -- is pushing for restructured high schools that are smaller and more personalized, expect more of every student, and build stronger relationships between and among faculty and students.
Neighbors say "fine: but we can't afford these smaller schools." This is a canard. If anything, the cheaper way to organize high school learning would be to have a network of smaller, personal, more-effective, themed schools, (including, like Community High, re-use of existing buildings, not expensive greenfield construction), without all the "bells and whistles," such as clubs, sports teams, pools and athletic fields, that cost tons of money. This network would be joined to a couple of anchor institutions (like Pioneer and Huron) where all students can go if they want to play football, be part of the Greek or drama club, take AP physics, or sing in the choir. In fact, this is how Ann Arbor schools work now for many kids, to their credit!
If anything Ann Arbor missed a chance, during the "new high school debate" that went on for years, to extend this model further, and take the numbers pressure off Pioneer and Huron by developing more, smaller, better, sought-after schools (like Community has become) but with their own unique "theme" and identity. How about a University of Michigan-linked high school? An arts-media themed school, or a green/sustainability school?
I won't bemoan the lack of district leadership at the time that led to another expensive comprehensive high school (Skyline) being built instead -- except to note, said leadership rapidly fled the scene. I will however, compliment our current leadership, and encourage our Ann Arbor community to keep advancing new models of powerful and effective learning environments that can also be more cost-effective, versus retreating to the models of the past. And schools like Community High are central to that vision.
John Austin is vice president of the Michigan State Board of Education, a non-resident Senior Fellow with the Brookings Institution, and Visiting Research Scientist at the University of Michigan Institute for Research on Employment, Labor and the Economy. He lives in Ann Arbor.