Posted on
Thu, Jun 14, 2012 : 2:13 p.m.
Are minority stereotypes fun in Ann Arbor?
By Guest Column
What do Chief Wahoo and Mongo Man have in common? They are both racial stereotypes of minority groups created by corporations in the name of "fun."
Many of us are familiar with Chief Wahoo, the Native American caricature that has been the official mascot for the Cleveland Indians since 1951.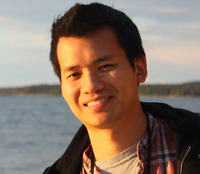 Mongo Man was created in the late 1990s by
BD's Mongolian Grill
, an American restaurant chain with 12 locations in Michigan and headquartered in Royal Oak. Mongo Man is a caricatured Mongolian warrior, complete with a suit of armor, yellow skin, and a "Fu Manchu"-styled mustache.
I was in disbelief when I first encountered Mongo Man dancing around on the sidewalk in front of the Ann Arbor restaurant. As an Asian American, I was deeply saddened to see my heritage reduced to a cartoon character for the purpose of selling food.
When I emailed my concern to BD's director of marketing, his response was that Mongo Man "has been a staple in our communities and is seen as a fun representation of our concept." I believe that there is nothing fun about racial stereotypes. Several research studies have shown that exposure to racial stereotypes have harmful effects, even at the subconscious level, such as racial categorization and bias. I believe that BD's needs to change their mascot.
Indeed, Chief Wahoo has drawn protest from Native American tribes, the NAACP, and is opposed by the U.S. Commission on Civil Rights and the American Psychological Association. In fact, the American Psychological Association denounces Native American stereotypes "based on a growing body of social science literature that shows the harmful effects of racial stereotyping and inaccurate racial portrayals, including the particularly harmful effects of American Indian sports mascots on the social identity development and self-esteem."
Furthermore, in 2010 Wisconsin passed a law eliminated race-based nicknames, logos and mascots in schools. Since then, Colorado and Minnesota have passed similar laws.
Is the depiction of Mongolians as ruthless warriors any different from the depiction of Native Americans as savages? Is the use of Mongo Man for selling food any more acceptable than Native American stereotypes in educational institutions?
According to their website, "Community" is a core value of BD's Mongolian Grill. I believe that BD's can be true to this core value and take the lead by reconsidering their campaign. It may take money and effort, but it is simply the right thing to do.
Dave Hsu is a resident of Ann Arbor.