Posted on
Thu, Sep 27, 2012 : 5:58 a.m.
Uncommon day shift allows for ice cream break and a peaceful arrest
By Rich Kinsey
A few weeks ago I was parked on South Ashley in front of Washtenaw Dairy enjoying a single dip ice cream cone. I wondered how anyone could eat a Washtenaw Dairy double dip ice cream cone without wearing most of it or having to call an ambulance for a third degree head freeze they might suffer.
My ice cream cone eating is further complicated by the fact that I still have a mustache. For those of you without mustaches, I can tell you that trying to hastily eat an ice cream cone before it melts can cause an unfortunate condition known as "sour milk mustache."
One has to eat the ice cream with several napkins at the ready to correct any hand-mouth coordination issues that might paint your upper lip, or mustache in my case, with the sweet albeit sticky dairy delight. That delicious ice cream can transform into an odiferous sour milk mustache if not napkined clean or better yet washed off.
That day I lamented to my wife that if one must have problems, sour milk mustache resulting from the best ice cream cone in the world is the problem to have. That being said, it can still detract from the blissful experience of a Washtenaw Dairy cone. Complaining to my wife, I was reminded of a similar ice cream cone incident that occurred about 20 years ago.
I was working in the AAPD Special Investigations Unit (SIU), which handled surveillance and undercover assignments and was housed in the Fire Station at Briarwood. It was a "squad day" Friday, which meant we were not working nights as we normally did. Squad days occurred on payday Fridays when we had no specific nighttime "targets"—active criminals we were tailing.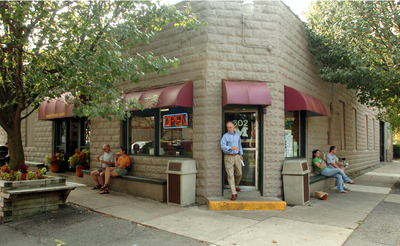 AnnArbor.com file photo
Squad days were used to catch up on paperwork, wash the cars and get them in for preventative maintenance such as oil changes and brake jobs. Our crew had a meeting downtown at City Hall and we were all headed that way. While enroute we decided to spend our break to get a Washtenaw Dairy ice cream cone in celebration of a beautiful spring day.
On the way, "Buster" radioed that he would not be partaking as he was on a diet. "Disco," "Slider" and I radioed back that we would be "out at The Dairy" ordering our cones. About that time Communications called on our frequency to relate that there was an unoccupied stolen car parked in the 300 block of S. State and asked if SIU was available to watch it. Buster volunteered and set up to surveil the stolen car,
We got back in our cars laughing like school kids at our good fortune working an uncommon day shift, on a beautiful day and enjoying a Dairy cone. Disco was riding with me, because prior to our meeting we were going to pick up his surveillance car and harass our pal "Big John" at Mallek's Service, where Disco's car had been fixed.
Once I fired up the engine, Buster called on the radio and he sounded excited. The car thief had returned to the stolen car and was getting set to leave. I considered pitching my cone, but thankfully Disco volunteered to handle one radio—calling uniformed patrol to stop the stolen car—while I directed the surveillance on our frequency.
So here we are two mustachioed plainclothes surveillance officers, slurping on huge Washtenaw Dairy cones, trying to avoid sour milk mustache while attempting to intercept a stolen car. Luckily my car was equipped with a special radio switch, that I could operate while keeping one hand on the steering wheel, one hand on my ice cream cone and several napkins on my leg in case of ice cream catastrophe.
That may seem like a lot to juggle while driving, but police officers in the days before cup holders were skilled at holding their coffee, answering the radio and jotting down an address. I know what some are wondering and the answer is, "No" we normally were stopped if we ate a doughnut—especially powdered sugar because it would leave unsightly white streaks on your uniform shirt if it spilled.
Meanwhile the stolen car with Buster following thankfully was heading west toward our location. We monitored the progress and several times I radioed Buster to "hang with him we're comin' your way." Disco, Slider and I drove down Madison to Third and started to head toward Huron, while Buster continued to call out his location.
While we were speaking on the surveillance frequency, Disco was directing a uniformed patrol car to the area. We waited on Third, eating our cones as quickly as possible and spotted the stolen car with Buster on his tail. Disco and I, in one car and Slider in another pulled out onto Huron Street in front of the stolen car.
Our plan was to block the stolen car at the traffic light at South Seventh. When we neared the intersection I could see in my mirror the uniformed car, without its top light activated, zipping through traffic. When we came to the traffic signal it was turning red.
When the light turned red, Disco and I finished our cones and were directly in front of the stolen car. I stopped and then backed right up to the thief's front bumper. Slider pulled the front of his Camaro right up next to front door of the stolen car so the surprised thief could not open the door and run. Buster pulled off into a driveway and got ready to drive down the sidewalk if necessary to block the stolen car. The uniformed car pulled up behind the stolen car activated its top lights and the thief had nowhere to go.
The timing was perfect. One stolen car was recovered without a scratch. One suspect was in custody without a dangerous pursuit. All ice cream cones were consumed without head freeze, spillage or sour milk mustache.
Lock it up, don't leave it unattended, be aware and watch out for your neighbors.
Rich Kinsey is a retired Ann Arbor police detective sergeant who now blogs about crime and safety for AnnArbor.com.