Posted on
Thu, Aug 30, 2012 : 5:57 a.m.
Families of cops sometimes take a back seat to the 'evil mistress': police work
By Rich Kinsey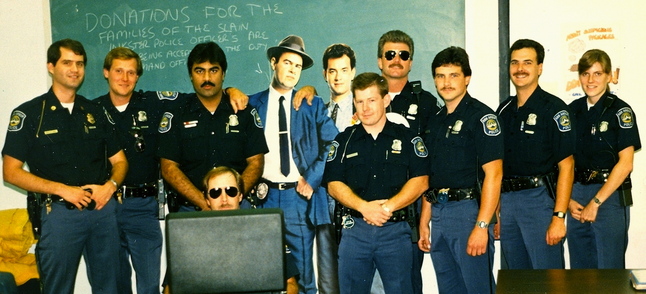 Courtesy photo
She calls at some of the most ridiculously inopportune times. She has forced me to climb out of a warm bed with my wife and face a snowing, blowing, gale to gaze upon frozen puddles of blood where life had slipped away. She made me do things I never thought I could until I had to do them. She has excited and exhilarated me. She has bored and exhausted me. She has made me laugh uproariously, cry quietly and nauseated me in a single day.
She never ceases to amuse, thrill and terrify me, and no one can argue that she is interesting. They write movies and television shows about her. She has made me look at things I would rather forget, but can't. Other moments, she has shown me brief flickers like a smile, a dried tear or a laugh that keep me coming back for more.
Those of us who have enjoyed her seduction secretly worry if philosopher Friedrich Nietzsche was right when he said, "Whoever fights monsters should see to it that in the process he does not become a monster. And if you gaze long enough into an abyss, the abyss will gaze back into you."
A past master of the craft and former boss described her to me as an "evil mistress." He was referring to my choice of pursuing a career in police work. He was referring to that which my wife and thousands of other spouses, significant others and families have to put up with on a daily basis — this "evil mistress."
The loved ones around a law enforcement officer and the support they bring mean the difference between a well-balanced, content officer and a bitter, resigned, psychologically-damaged officer counting the days until retirement.
Families and loved ones of officers keep a cop grounded and serve as a daily reminder about what is important and why the protection and service the police provide is necessary. The best officers treat people, solve problems and lend a sympathetic ear to those in need in the manner they would want their own loved ones treated in like circumstances.
The demands placed on a police officer's loved ones are great. The hours are terrible — like all jobs providing service 24/7 and 365 days a year. There will be unavoidable absences at school events and many plan shifts to accommodate the odd hours an officer works. Two-thirds of the shifts worked by officers are out of sync with the rest of the "real world," but those hours are when the police are needed most.
Odd shifts are bad enough, but if an officer wants to specialize and become a detective, crash investigator, hostage negotiator or special weapons and tactics (SWAT) operator, they will have the added burden of being "on call."
Being on call changes your life and your loved ones' lives. Most on-call officers do not get a dime extra — only the warm fuzzy feeling of devoting a little more to the "evil mistress." There is, of course, the overtime pay, but it can never buy back the frowns and disappointed looks of loved ones who had family time planned before "the call" came.
Then there is the little nagging thought in the back of loved ones minds that the "evil mistress" can kill. Statistically, it probably will not happen on any given workday… but it might. The "evil mistress" will shave years off a cop's life. The life expectancy of a cop is about 10 years less than the general public.
I am fortunate. I have had the love and support of my wife and family. My wife Toni is more understanding than most, because she was an Ann Arbor police officer for four years.
Toni was an awesome cop. She won a much higher percentage of police foot pursuits than my slow lumbering gait afforded me. I used to jog with her, and she would never stop complaining, in a normal conversational voice, about how hard running was — while I huffed, puffed and could barely form words. Toni ran like a gazelle.
She does not like guns, but she always qualified as an "EXPERT" within a few points of my score, and I was a firearms instructor. Pound for pound she is still tougher than me. This is evidenced by the fact that "the look" and a suggestion that the kitchen trash is full can send me scurrying to dump the trash.
When we decided to have children, Toni became a "stay at home mom" to our sons. When our boys were very young, she afforded me opportunities that other officers did not have. She placed no restrictions on my hours, and I worked shifts that changed daily with the Special Investigations Unit (SIU). SIU caught a lot of bad guys, and professionally I had a blast. I owe that fun and any success I have had to Toni, who has been my partner through it all.
Toni is now a fourth-grade teacher, with a killer website: http://www.tonikinsey.com/index.html. On Labor Day, she and I will celebrate our 25th anniversary, and my parents, Dick and Ileen Kinsey, will celebrate their 65th anniversary.
Thanks to my family and to all the families of police officers who support us.
To Toni on our 25th some words from a Kid Rock song sum it up — "It's the life I love, but it's you I can't live without." Thanks, Gorgeous. I love you.
Lock it up, don't leave it unattended, be aware and watch out for your neighbors.
Rich Kinsey is a retired Ann Arbor police detective sergeant who now blogs about crime and safety for AnnArbor.com.