Posted on
Wed, Feb 1, 2012 : 6:57 a.m.
Call to activism: Stand up against cuts in social services when they are needed most
By Guest Column
First, I commend my friends and fellow activists working in education, social work, public and private non-profit help agencies, faith-based help agencies and any other help agencies. I say to you that you must continue to advocate for the people who need desperately the services you provide -- for their adequate funding, staffing, and advocacy from those in governance.
I also herewith share my very strong feelings about the federal, state and local governance we are experiencing right now as it regards our most vulnerable citizens. This is my call for you to ask: "Where is the love?" in their strategies and agendas?
This is my call to activism to you who believe that an advanced society and community must care about children, families, schools, the elderly, the ill, the disabled, the under-employed and unemployed among us.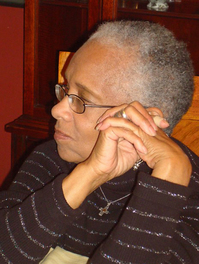 This is a call to pay attention to candidates and their agendas and philosophy. This is a call to attend a school board, city council or county commission meeting and insist that elected officials explain actions and votes in lay terms, loaded with logic, present clear information that justifies their action on any agenda referendum. This is a call for you to take the opportunity to tell elected officials during public comment space what is going on in your community during these very tough economic times.
Elected officials do not build community, people who live in the community do that -- people like you and your friends and associates and the consumers of services you provide. In instances more numerous than you can imagine, Head Start and other poverty fighting programs have empowered "ordinary" folks to transform not just their personal lives, but the communities in which they live. Does the prospect of empowerment of those who, by virtue of one demographic -- poor/working poor -- frighten or dismay those who have the power to change, eliminate, or, heaven forbid, enhance help initiatives?
I am alarmed that wave after wave of dashed hopes for the future of thousands of families served by venerable and proven help programs like Head Start, Food Programs, housing support, and other subsistence programs are seeing funding and staffing cuts which result in reduction in services. Programs like Head Start have fostered and shaped community support, community collaboration and community Involvement, and the kind of community empowerment that helps citizens help themselves.
A decision was recently made by a slim majority of the Washtenaw County Board of Commissioners to eliminate the proven model of a community program serving young children and their families. This program has endured in this community for decades, and has earned nation-wide exemplary status from funders, community partners and collaborators, and child advocacy groups nationwide.
Programs that work and achieve their missions should not experience interruptions, modifications or any kind of perceived political chicanery at a time when the need for services and the quality of service delivery has been validated for many years and is acutely needed during economic downturns.
I am appalled that some elected officials have determined that, generally, program modifications that reduce funding for staff who work in public and private initiatives and programs that serve families in crisis will help the economy. How wrong-thinking can that be? Framing and executing such illogical, poorly thought-out plans will increase the number of unemployed and underemployed, eliminate tax revenue from those who work and purchase goods and services, and have the other trickle down effect of weakening community businesses. That is not a difficult path to track. The time to study and develop long-term strategies for controlling the cost of government services and caring for the community is not when communities are severely economically depressed, but when communities are economically stable. Those able to govern wisely understand that.
Don't be surprised when this thinking invades your local and state governance. The abdication of help for poor and low-income families and individuals is happening everywhere. There is a process of devaluating certain groups -- i.e. low-income, poor, unemployed -- through legislated reduction of services and support to their help sources. This is not a red or blue problem. It is a social consciousness problem caused by a lost sense of community engagement and a failure to examine the resume' of politicians for evidence of visionary leadership and understanding of community. It is fueled by the absence of community thinking among too many elected and empowered individuals and agencies whose responsibility is to build not weaken and fragment community structure.
Determine today that you will be aware of how leaders lead in your community. Speak up where the efforts of programs that support our most vulnerable, but still hopeful citizens, are considered dispensable or are up for some poorly planned "reorganization." Such planned "reorganization" almost surely will lead to a weakening of the mission and proven results of such programs to change lives for the better.
Finally, to everyone working or serving in a help/service capacity, be creative, be energetic and be willing to exceed yesterday's good work. Do more than enough.
Margaret Crawford is a Sumpter Township resident with a decades-long history of youth advocacy in the western Washtenaw County and out-Wayne County area. She says she writes to applaud, encourage, and inspire those who work for a future of hope and promise for our young people.