Posted on
Thu, Dec 13, 2012 : 5:59 a.m.
Cancellation of Big House Big Heart goes beyond the race itself
By Letters to the Editor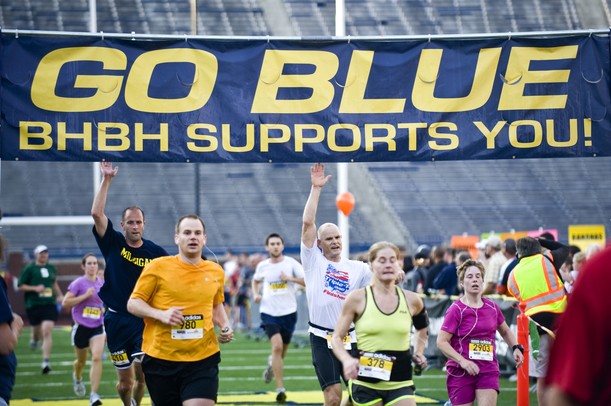 Joseph Tobianski | AnnArbor.com
The formal definitions for the word "charity" all involve a fundamental focus upon others, not upon yourself. The definitions (as found when one examines the Merriam-Webster Dictionary) include phrases such as "benevolent goodwill," "generosity and helpfulness," and "a gift for public benevolent purposes."
These days, the clear impression one gets of the U-M athletic colossus is that they consider their fundamental soul to be their own self-interest. The latest maize and blue edict from on high is not an announcement about a $100-million facility fundraising campaign, another "Michigan Man" coaching hire, or yet one more needed upgrade to the football scoreboards.
Rather, it is a decision by the athletic department brain-trust to sever ties with the "Big House Big Heart Run," a six-year charity event run by the plucky local company Champions For Charity. Evidently, U-M Athletics has decided this organization is not worthy of their ongoing attention, citing "assessment of our charitable mission" (sic). Shame on U-M athletics. I'm not going to pretend that I know their business better than they do (an attitude which, by the way, is often practiced by we Ann Arborites). Sometimes, people and organizations are faced with difficult dilemmas, limited resources, and choices the public just cannot see. The decision to close the doors of the Big House to this Litte Event, however, smacks of everything that is starting to smell bad on the southwest corner of town. When one attends a U-M sporting event these days — from the money-grab of a gargantuan football Saturday, to a "discounted" women's basketball game, to a "minor" sporting contest — any longtime U-M fan feels the pinch on the backside. That tension is the result of a pervasive feeling where U-M Athletics is reaching harder for your wallet, through all of the ancillary costs of attending the game in addition to the ticket price. Everything the U-M does these days is an effort to maximize: be it revenue, publicity, celebrity association, reputation, etc. Part of this is the nature of the so-called "game" these days in major-college athletics, and fans and participants alike have had to digest large helpings of this culture. But when Michigan Athletics turns a deaf ear — or better yet, a hard heart — to something like this "Big House Big Heart" event, it poignantly brings into view an organization that has clearly decided that its own mission is the only thing that matters. "Charity begins at home," as the adage goes. Ann Arbor is the U-M's home. This event is not only worth the athletic department's valuable time, but moreover should be the kind of thing they extend themselves to continue to support. It looks pretty obvious that they dismissed Champions For Charity with little thought. I'm guessing that they probably determined that they want these kind of events to "max out" for them in the future. "Charity" for U-M Athletics clearly means that they get something big out of it, too. My effort here is not only to call out U-M's athletic honchos on this deal, but to hopefully contribute to some bad publicity for them. Maybe it'll make a small dent on the maize and blue where they perceive that it matters most. Should the Big House EVER sit idle, on a day that Champions For Charity is holding a future fundraising run or event...well, the stench from the corner of Stadium and Main would then be "maximized." Steve DeDoes
Ann Arbor