Rich Kinsey | Semper Cop
Column:

Grandson in trouble? Check out the story before wiring money

Posted on Thu, May 31, 2012 : 5:59 a.m.
The call came in the afternoon to my neighbor and friend. The voice on the line was very nasal sounding and explained to grandma that he had gotten in trouble with the law. The cops broke his nose, and he needed "bond money wired right away." In his currently police packed proboscis voice, he begged grandma to help. He did not want to call and upset mom or dad.
Well this friend is a great "mama bear" or in this case a "grandma bear," and no one messes with her family. She would fight to her dying breath to defend her children or grandchildren. Her "grandson" was calling in need, and she was going to do whatever it took to help him. All he needed was some money to be wired via Western Union to post his bond.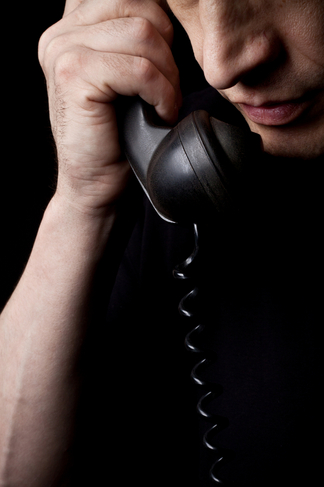 Dreamstime photo
Without hesitation, grandma pried grandpa out of his La-Z-Boy and both were en route to wire the poor lad his bond money. Grandson with the terribly nasal voice called back and grandma gave him the transaction number, which would post bond and supposedly unlock the lad's cell door.
Several hours later as grandma and grandpa waited to hear from their currently nasally impaired grandson. They were surprised to hear an official sounding voice explaining that grandson was not going anywhere until the medical costs incurred by the "Humph…COUGH...mumble County Jail" were reimbursed for the treatment of their grandson. Grandma and Grandpa should just wire the money as they had the bond money earlier.
The light went on and "grandma bear" got a sick feeling in her stomach that she had been scammed. She called her grandson's cell phone and found that he was sounding just fine and had been home over the weekend and not in trouble with the police. "Why do you ask grandma?"
"Never mind you just keep working hard in school and getting good grades. Grandpa and I love you…bah bye."
Her fears being confirmed, my friend immediately contacted Western Union Security to report the incident and perhaps stop the transaction. Within minutes of the original transaction, the crooks acted quickly, according to Western Union Security, the money had been picked up in "Peru" I was told. I am betting however it was probably Panama, because that is how the scam is listed on the Western Union website: www2.westernunion.com/sites/us/consumer-protection/alert-panama.page
The kind security officer walked her through the steps of what to do next, which included making a police report with local authorities. Unfortunately, the chances of getting her money back were somewhere between getting struck by lightning and winning the Mega Millions lottery.
She called me before she told her children, confirmed what Western Union had told her to do was proper. She then told me I should write something about the incident so no one else gets scammed. Here is where policeman's guilt kicks in. I had other columns scheduled, and since the time that she asked me, there have been other victims in western Washtenaw County.
Police officer's guilt is that sick feeling that if you had only done your job a little better, there may have been one less victim. So for the victims since my friend asked me to write this, I apologize. In my own lame defense. I wrote about this scam almost exactly two years ago: www.annarbor.com/news/the-grandparent-scam/.
Please share this column with others because this is a fairly common fraud. The variation is when a "friend" calls or e-mails from some trip, a long way from home, and needs money.
If they call, they will start with: "Buddy I need your help. You are the only one I could call who I knew would help me. You aren't gonna believe this but — insert story of an "embarrassing" or socially damaging incident that took place — and my wallet, credit cards and cash were stolen. If you could just hurry and wire me — insert amount here — I could get this all straightened out. PULLLEEEEase do not breathe a word of this to my — insert spouse, significant other, parents, co-workers, boss, neighbors, press, etc."
The yarn will also explain why the voice, of your "friend" who had the emergency, sounds funny. It could be car accident, assault during a robbery, police brutality, kicked by a mule in the market square just before the theft, tried to run with pants down tripped and fell on something or any other incredible story. Usually the more bizarre, comical or embarrassing the tale, the more believable and less questioned the story will be by the potential victim.
To protect yourself if someone contacts you, make the caller tell you exactly who he or she is. Do not answer the telephonic plea with, "Chuck is that you?" Make the person give you his or her full first and last name. Get a call back number. Tell the caller that the police deal with these things all the time and ask where the caller is so you can contact a friend or the police in the area to help. Ask questions and do not let anyone rush you.
After you hang up the phone or have read the email, contact the actual friend using the contact numbers you have. Confirm or deny the story from other family members, friends or co-workers if necessary. Chances are your real friend will answer and ask what you are talking about.
The other huge waving, flapping, red flag with fireworks popping around it, for the potential victim is: "wiring" money "right away." The rush is so the victim won't think about what is going on and will just act.
Wiring money is an expensive option, since standard handling fee is around 10 percent. Furthermore, Western Union boasts 500,000 agents (pick up locations) in 200 countries worldwide and, for most transactions, all it takes to pick up the loot is the transaction number.
The victim may think the cash they sent is being picked up in Peoria, Ill., but with that transaction number it could be picked up in Punta Pena, Panama; Punxsutawney, Penn.; or any of the other 499,997 convenient locations.
Please be on guard for this scam and make sure seniors in your life know about it. If you fall prey, make a police report immediately.
Lock it up, don't leave it unattended, be aware and watch out for your neighbors.