Posted on
Mon, May 7, 2012 : 11:05 a.m.
Climate change: Are you 'alarmed' or 'dismissive'?
By Wayne Baker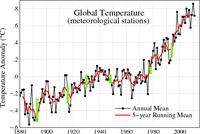 Editor's note: This post is part of a series by Dr. Baker on Our Values about core American values. This week Dr. Baker is discussing American attitudes toward climate change.
Doesn't the weather seem a bit out of whack? The period between fall and spring was the winter that never was. I didn't fire up my snow blower even once. The early start to summer was glorious — I even went boating on Ford Lake over a month ago. It's all quite nice, but at least to me, a little unsettling, too.
Could I be one of The Alarmed? The Alarmed are one of six types of Americans, based on beliefs about climate change and global warming. The Yale Project on Climate Change Communication documented these six types a few years ago, and have been tracking them ever since. This month, they issued their latest report on the six Americas.
If you are absolutely sure global warming is taking place and that human activity is the main cause of it, then you might be one of The Alarmed. Members of this group are convinced by the scientific evidence about climate change. The Alarmed know a lot about climate change and what they know worries them. They believe global warming has already caused harm, and that it is a threat to them and to future generations of Americans.
But they have arch rivals: The Dismissives. This group is at the other end of the scale, totally sure that global warming is not real. They, like The Alarmed, feel they are well informed and knowledgeable about global warming. What they know is simple: the scientific evidence of global warming is bogus, and humans have no role in climate change. They harbor no fear of global warming — for themselves personally or for future generations.
Four other types of Americans reside between these two poles. We'll visit them this week as we discuss the Six Americas.
For today, pick between The Alarmed and The Dismissive:
Are you "alarmed" about global warming?
Are you dismissive of it all?
Are you somewhere in between?
Dr. Wayne E. Baker is a sociologist on the faculty of the University of Michigan Ross School of Business. Baker blogs daily at Our Values and can be reached at ourvaluesproject@gmail.com or on Facebook.