Posted on
Fri, Oct 12, 2012 : 4:33 p.m.
Complacency the real opponent when it comes to elections
By Tom Watkins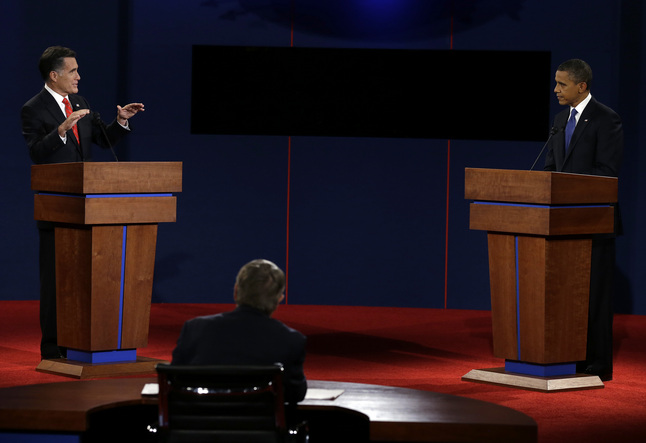 AP Photo/Charlie Neibergall
Does your vote matter? Let me count the ways.
Is anyone seriously wondering if they should vote in the 2012 presidential election? Don't get all Shakespeare on me — "To vote or not to vote." Really?
YES, your vote DOES matter!
Imagine, if you will, your life with a second President Barack Obama four-year term or four new years with a President Mitt Romney.
The day of reckoning is fast approaching. In a little more than a month, Americans go to the polls and either re-elect Obama or select Romney as our next president.
As of this writing, according to Poll Tracker, Obama leads by 3.5 percentage points nationally, and is leading in the majority of the key swing states. In Michigan, he is up a whopping 11 percentage points: 51.2 percent to Romney's 40.6 percent.
Being ahead in the polls is certainly better than being behind. Yet, if you are a Democrat, a woman concerned about your health care rights, or an independent who believes President Obama has the forward-looking vision that helps lift ALL Americans, now is NOT the time to break out the party hats and begin to celebrate.
Historically, when polls seem to be tilting your way, they create a false sense of inevitability that a candidate is going to win.
Polls don't vote
History has a painful way of reminding complacent voters that "polls never win elections — voters who vote on Election Day do!"
President John Kennedy won by the slimmest of margins in 1960.
Have we forgotten the 1990 upset win of Republican Senate Majority Leader John Engler over two-term incumbent Gov. James Blanchard?
Voter turnout matters. Leading up to the election of 1989, Blanchard was riding high, some polls had him as high as 14 points ahead of his rival just two weeks before the election — and he lost by 1/2 of 1 percent.
I remember the election very well. I served as Blanchard's deputy campaign manager in his first successful run for governor and later as his deputy chief of staff in his first term, eventually ending as director of the Michigan Department of Mental Health when he unexpectedly lost in 1990. It was a stunning loss.
In postmortem reviews, political pundits universally concluded that turnout — or the lack thereof — helped bring Blanchard down. It has been demonstrated that if he had retained the exact same turnout of city of Detroit and other Democratic strongholds voters that he received from his 1982 and 1986 races, he would have secured a third term in office.
As they ask on the streets, "How'd that turn out for you?"
Blanchard put it this way: "The constant drumbeat of polls showing a candidate with a clear lead can lull voters and supporters to sleep. Indeed, complacency becomes the opponent."
One vote may very well just count. Ask Bill Clinton administration's Al Gore, who some claim lost the election to the U.S. Supreme Court, which decided the election in favor of George W. Bush.
The election came down to a few hundred votes in Palm Beach County, Fla. One can only speculate how different the country would be with a President Gore vs. eight years of "Dubya."
Again, "How'd that turn out for you?"
Former Detroit Mayor Dennis Archer, now 70, says: "In order for President Barack Obama to be re-elected, all of his supporters must vote either by absentee ballot or by going to their assigned voting booths on Election Day to cast a ballot in person. By any objective standard, President Obama has earned our vote and the vote of the American people so that he can complete the outstanding work he began almost four years ago."
Archer continues: "While President Obama is leading in the polls nationally and in the state of Michigan, polls don't vote, people vote. Personally, I am fired up and ready to vote for Obama."
So, if you sit home and don't vote — assuming Obama will win — don't complain if he doesn't.
Your vote matters — exercise the right!
We earned it the hard way.
Tom Watkins has been an active participant/observer in the political/policy debates in Michigan for 30 plus years. He is a US/China business and educational consultant and can be reached at: tdwatkins88@gmail.com