Posted on
Thu, Feb 14, 2013 : 5:56 a.m.
Cops learn through experience it pays to remain skeptical
By Rich Kinsey
If you ever chance to meet a police officer and have an opportunity to talk to them off duty, you will more than likely find them listening to you. Until they get to know you, they will let you do the talking. Cops are wary. Cops are skeptical. They have to be to stay alive and do their job.
I call this "necessary skepticism." Police officers can not believe everything and everyone they hear, because as shocking as this might sound some people lie to the police. Some people try to manipulate the police. More importantly, for officers to remember, there are some in society who wish to hurt or kill them.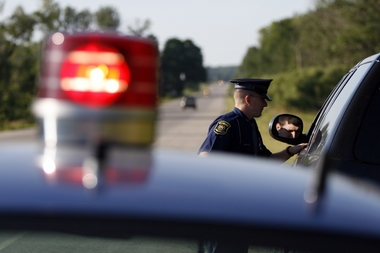 Photo courtesy of the Michigan State Police
Police officers are faced on a daily basis with ambiguity and uncertainty. Each call for service, traffic stop and citizen contact is a story waiting to be told. It is up to the officers to figure out, as best they can, what is really going on in front of them. What is the truth?
While doing this officerd must trust their instincts and remember everything they have been taught in life, the police academy, through lessons from other officers, and their own experiences on the street in order to stay safe.
For instance even though someone officers are dealing with is all smiles and respect, things can change in an instant if that person is, for instance, a wanted fugitive. Officers are thus trained to listen but also watch what the body is communicating, and most importantly, ALWAYS watch the hands — after all, those are what can kill an officer.
The eyes may be the windows to the soul and they can give clues if people are lying or the direction they are about to flee, but the hands still are the most important body parts an officer must watch. Hidden hands are dangerous and could hold a weapon.
My first real life experience with this came when I was at a family fight. A petite tiger of a woman was palming a butcher knife while showing me only the backs of her hands and she drew nearer. I told her to stop, just about the time my partner had the proper angle and yelled, "Knife!" She was amazed how fast a startled officer can draw his gun. She thankfully dropped the knife before I found out if she was seriously going to use it or just make a point — pardon the pun.
When dealing with strangers, an officer always is wary and skeptical, because the stranger is an unknown entity. Did you know however that two thirds of officers feloniously killed in the line of duty knew their assailant?
Familiarity with an individual can make an officer comfortable around that citizen. An officer may deal with a person 20 times without incident, but the 21st could be fatal. Until an officer has a chance to see and speak to a person to gauge the person's state of mind, they should never prejudge a person's behavior. Even Melvin Milquetoast, given the right set of circumstances and fueled with the right combination of alcohol, drugs, rage, frustration or hate, can be a serious threat.
On a lower danger level, the general public would be amazed at the whoppers people will tell the police on things as simple as traffic stops. My jaw dropped one day when I watched a guy make a turn onto a one-way street. He saw me and pulled into a parking lot. I had him under constant view, but he absolutely swore it must have been someone else. He was outraged because it was not him!
I was amazed; I watched the whole thing and he was adamant and angry. I did not argue. I wrote the ticket and when I gave it to him he calmed, smiled and told me, "Yeah you got me."
Another whopper I heard came after hours of interviewing a rapist and murderer that had been identified by DNA, and made admissions to my partner and I. We let him make a call to his girlfriend and heard him say, "Yeah baby they got me on DNA, but you know that's only 99.9 percent positive, that ain't 100 percent." There was an argument for innocence.
One of my dear friends, who retired from the FBI, opened up bold new vistas in my interviews with suspects when he told me, "Remember a good lying statement, that you can shoot (evidentiary) holes in, can be better than a confession." The reason is that juries can identify outlandish lies, and usually only guilty people tell them.
At the time I also envied FBI agents because of a law the Feds had but that local law enforcement did not. At the time it was a five-year felony to lie to a federal officer—Martha Stewart, for a time, had to make her craft projects in a federal penitentiary after being convicted of this.
I do not have to be envious any more. As of last July it is now a crime to lie to a Michigan peace officer investigating a crime. The penalties for doing so are based on the level of crime a police officer is investigating. If you lie or mislead the police during a serious felony investigation — like murder — you can be punished with a four-year felony. That is a good law for the sake of truth and justice.
Police officers are necessarily skeptical because, as I have found during 30 years of law enforcement, there always are two sides to every story when humans interact, and the truth usually lies somewhere in the middle of those two sides. It is not because people always lie to the police, but because whenever we speak about ourselves, we naturally try to put ourselves in the best possible light.
However if you choose to speak to the police in Michigan, it is best to tell the truth, or the light you put yourself in may be the harsh institutional light of a jail cell.
Lock it up, don't leave it unattended, be aware and watch out for your neighbors.
Rich Kinsey is a retired Ann Arbor police detective sergeant who writes about crime and safety for AnnArbor.com.