Posted on
Thu, May 5, 2011 : 5:56 a.m.
Laying off more cops in Ann Arbor is a bad move
By Rich Kinsey
In 1962, President Kennedy addressed the graduating class at West Point and quoted a line carved by an anonymous soldier in a guardhouse in Gibraltar.
The line read, "God and the soldier all men adore, in time of trouble and no more. For when war is over and all things righted, God is neglected and the old soldier slighted."
That quote is true for military personnel and for paramilitary organizations like the police as well.
That same year President Kennedy signed a law making May 15th of every year Peace Officer's Memorial Day and the week surrounding that date Police Week. This year Police Week will be May 15-22.
It is sadly ironic that on the second day of Police Week, the Ann Arbor City Council will vote on a budget that will necessitate the layoff of police officers.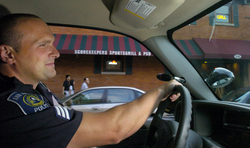 The State of Michigan is clearly in financial crisis and, necessarily, Ann Arbor and other local governments have seen state funding slashed.
However the loss of more police officers from an agency that has already been cut by more than a third is a bad idea. The officers and civilian employees of the police department who face layoffs are all experienced professionals.
The sworn officers who would be affected by proposed layoffs have between 5 and 9 years of police experience in Ann Arbor and most were veteran officers at other departments before joining the Ann Arbor Police Department. That is a tremendous loss of talent to the city and to the state, because most will move to Texas or the Southwest to find other law enforcement jobs.
What this means to the citizens is that non-emergency police services will suffer and crime rates will rise. The officers will still respond almost as quickly to emergencies, but, once the scene is stabilized, will not spend as much time on follow up investigation. Expeditious follow up investigations are crucial to solving crimes.
The best time to collect information about a crime is while all the principals, including witnesses are at the scene. Memories of the incident are freshest and all involved are in one place at one time. After the incident is over, all involved scatter. Re-contact and follow up investigation is much more time consuming, costly and ineffective than good on-scene investigation.
At the very least, initial officers must try to gather the names, addresses and phone numbers of the people at the scene, in order to make re-contact possible. The initial officers may not be able to get this basic information, if they are called away to another emergency. If that happens, contrary to the numerous fictional CSI miracles on television, the possibility of solving the crime diminishes tremendously.
Furthermore if there are layoffs in the police department, detectives will have to be pulled back to patrol duty. Fewer detectives will cause supervisors to assign only the cases that are already solved by arrests or "easily" solved. The cases that require knocking on doors and other follow up by detectives will only be assigned if they are of a serious or violent nature. The less serious cases that would have been solved in years past go unsolved. Unsolved cases will generate no arrests. Unarrested perpetrators will continue to commit crimes and the crime rate will rise.
Ann Arbor has been lucky for the past several years. The crime rate has remained flat or decreased because of more efficient allocation of police resources. This has prompted some politicians to make comments like, "Less police, less crime … Hmmm?" Those politicians understandably ask, "How low can we go?" Clearly they are watching the crime statistics to answer that question, but that is a dangerous tactic.
Unfortunately when crime rates rise, they will rise much more quickly than the police department will be able to backfill its ranks. It takes about 2 years to get an officer on the street and functioning on their own.
The time lag is due to posting the position, position selection, background investigations, academy training, in-house training, field training and supervised probation. This will be necessary because officers with jobs elsewhere will not apply to agencies that have recently experienced layoffs.
It all comes down to priorities. At what point will citizens say enough is enough?
The most important thing a government can do is protect its citizens. At what point will perennial money pits like Huron Hills Golf Course be closed and turned into scenic trails that are cheaper to maintain and better for the environment? At what point will recreational and artistic pursuits be temporarily reduced in order to fund safety services during tough financial periods? Only time will tell.
I hope National Police Week brings some good luck to Ann Arbor's Finest!
Lock it up, don't leave it unattended, be aware and watch out for your neighbors.
Rich Kinsey is a retired Ann Arbor police detective sergeant who now blogs about crime and safety for AnnArbor.com.