Posted on
Thu, Mar 7, 2013 : 5:56 a.m.
Colleagues can help some gain unexpected appreciation for a career
By Rich Kinsey
Police work is all about teamwork. The best officers are the best team players and yet police officers must still be extremely independent. Police work varies tremendously from department to department. The body of knowledge of police work—like any profession—grows when professionals from different agencies have a chance to communicate.
I was speaking to a deputy with Washtenaw County Sheriff's Office the other night and the subject of policing serious car crashes came up. I told him that in Ann Arbor, we thankfully had relatively few fatal crashes. I worked on very few fatal car crashes, but all of them stand out in my mind.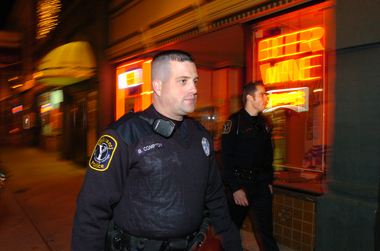 For this reason, I am a firm believer in seat belts. Seat belts really do save lives — if you can stay in your seat in a crash you probably will be all right because most of the time there is not much damage inside the passenger compartment — at least in city crashes.
As a city officer, what runs through my mind after the crash has been policed, when there is a pause in the action, is to remember the crash victim was a living and breathing human being moments prior to arriving on the scene. That person had family, friends, thoughts, dreams and problems just like everyone else, and BOOM, perhaps through no fault of their own, they cease to exist in this physical world.
The deputy told me he had for a time left Washtenaw County and worked for the Idaho State Police. There he policed accidents in unincorporated areas where he would be the only rescuer on site for up to an hour. I have heard similar stories from Michigan State Troopers in the Upper Peninsula and Northern Lower Michigan.
He told me in his Idaho State Police car he had to carry a chainsaw, axes, pry bars and tow straps because many times he had to extricate crash victims by himself. Many times in those cases, he told me, air ambulances were the only chance crash victims had of survival because it would take an hour to get a ground ambulance on scene, and the same amount of time or more to get the victim to a trauma center.
Wow — I thanked my lucky stars that in Washtenaw County, we are blessed with great fire departments that are relatively close to any action which might occur and public safety officers that are properly trained to extricate crash victims, or otherwise remove victims, from almost any environment they might find themselves.
In this county we also are blessed with Huron Valley Ambulance's strategically placed throughout the county and Survival Flight for when a smooth ride or speed is of the essence. If you can survive to the hospital we have a world-class trauma and burn center in the University of Michigan Hospital and outstanding emergency rooms at St. Joe's and Chelsea Hospital.
That is just one aspect of policing, but it is amazing how much differently officers policing rural areas have to deal with their calls for service as opposed to officers in more populated areas. For instance city cops have help coming much sooner than their rural counterparts who may have to wait a relatively long time for any back-up.
On the other hand, rural cops do not have to deal with sheer number of incidents involving personal violence, thefts and of course, crowds. Suburban cops do not have to deal with as much as officers policing urban areas — or do they?
I was surprised to find, when then Ann Arbor Police Chief Dan Oates sent a few of us to New York to learn from the New York Police Department (NYPD) that what urban cops deal with is very similar to suburban cops.
Interestingly enough, a precinct in New York was very similar in size to the City of Ann Arbor. The population, number of police officers, calls for service and crime statistics were incredibly similar; New York just happens to have more than 100 precincts.
Our NYPD instructors told us they had found, after giving and receiving information from police officers from all throughout the world, that police officers the world over deal with the same crimes and issues as the NYPD. The NYPD just handles, as a department, larger volumes, and thus the body of knowledge, experience and resources are deeper than in smaller departments.
Rural cops on the other hand deal with things large police departments just do not have the time or personnel to handle. Chelsea police officers for instance, still provide lock-out services for motorists, chase bats from homes, rescue ducklings from storm sewers and have even assisted homeowners with leaking hot water heaters — the key here I am told is to turn off the gas prior to turning off the water, otherwise the water heater can become a bomb of sorts.
I was even told a couple of Chelsea cops tried to perform an emergency cesarean on an injured doe they had euthanized to try to save her fawn. One of the officers involved told me he had saved fawns in that manner when he previously served as a sheriff's deputy. That officer even demonstrated for me the technique of how to get a newborn fawn to breathe. I had never heard of such things while I was an Ann Arbor police officer.
No matter where a police officer works, the astute ones learn something new every day about their profession. They can learn even more by speaking to their colleagues from other agencies.
I encourage officers to talk to other cops from other departments. They can learn and hear a fresh perspective that might save them work or their lives in the future. The officers also might learn their lot is much better than officers in other departments.
I guess the same could be said for any profession and right now in Michigan, those with those jobs should appreciate them.
Lock it up, don't leave it unattended, be aware and watch out for your neighbors.
Rich Kinsey is a retired Ann Arbor police detective sergeant who writes about crime and safety for AnnArbor.com.