Posted on
Thu, May 24, 2012 : 8:15 a.m.
Does the atom have a designer? When science and spirituality meet
By Guest Column
The fundamental building block for the universe in not a passive billiard ball. It is a complex assembly of interacting particles called the atom. These subatomic particles represent a fine balance of forces, have very special properties, interact together in complex ways, exhibit complex behaviors, obey complex laws, and follow complex rules of order, all to ultimately provide function. Atoms don't simply follow laws -- they provide function. Atoms consist of a purposeful arrangement of parts (subatomic particles) which interact together to provide function. They are machines.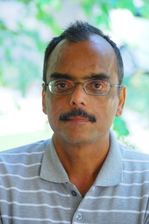 Just because we understand the laws that matter follows does not necessarily give us an understanding of
how
it does so. For example when an electron changes orbit, it emits a photon that we see as light. But how did this photon materialize from the electron? And how did it then travel at the speed of light at a certain frequency, direction, and amplitude? And how does it sometimes behave like a wave (akin to ripples in a pond)? How was this mechanism incorporated into the design of the electron?
How was this fantastic machinery put In place?
In 1951, Albert Einstein wrote to his friend Michael Besso about the unfathomable nature of the photon: "All these fifty years of conscious brooding have left me no nearer to the answer to the question: What are light quanta? Nowadays every rascal thinks he knows the answer, but he is simply deluding himself."
How can something behave like both a particle and a wave? And how are such complex behavioral mechanisms incorporated into the photon, as well as the other subatomic particles?
Similar behavioral complexity can be found within the atomic nucleus, which consists of protons and neutrons. Each proton and neutron is made up three particles called quarks. Each quark exhibits three different types of forces (called the color force), and interacts with eight different particles called gluons within the atomic nucleus. There is a whole field called Quantum Chromodynamics that describes these complex interactions.
Atoms are machines that enable the physical, electromagnetic (including light), nuclear, chemical, and biological (including life) functioning of the universe. Atoms are a complex assembly of interacting particles that enable the entire functioning of the universe. They are the machine that enables all other machines. It is virtually impossible to explain the structure, complexity, internal dynamics, and resulting functionality of the atom from chance events or through evolutionary mechanisms. The atom is a machine that provides multiple functions, and every machine is the product of intelligence. The atom must have a designer.
Lakhi N. Goenka is a resident of Ann Arbor and the author of the book, The Physics of Reality: Ramblings of a Grieving Engineer, an examination of science and spirituality. Goenka wrote the book after the death of his 18-year-old son.