Posted on
Sat, Apr 27, 2013 : 3:30 p.m.
Don't let tragedies keep you from running forward
By Letters to the Editor
We cannot run away from our responsibility as citizens of our democracy and we shall continue to run for various worthy causes that represent our American spirit.
In the early hours after the attack on the Boston Marathon, I thought about the fear factor on the participants and supporting public.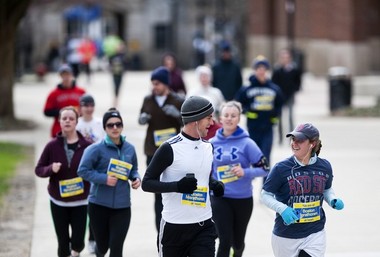 AnnArbor.com I Daniel Brenner
Then, when I received an email from a former college roommate still living in Romania expressing a sincere concern about our runners' well-being, I reached to my friends who were part of the marathon and I felt some relief knowing that they were not directly harmed. My prayers stayed and will remain with all the families who heavily suffered and had their lives shattered forever by this despicable attack.
We are subjected to various natural disasters and unfortunate accidents, such as the recent explosion at the fertilizer factory in Texas and yes, we are affected by the loss of life and we pray for everybody suffering because of it. But intentional harm on innocent human beings gathered to cherish life should be strongly denounced by anyone and specifically by the U.S. religious leaders who shall have the additional burden to crash in infancy the radicalization of their belief — wherever it may sprout from.
As an immigrant who greatly benefitted from what America has to offer, I cannot and will not stand still and accept such pain inflicted on my fellow Americans without reflecting on these events. Why and how can we —those who are offered the opportunities of America — turn against the hand that provided protection to us against totalitarian regimes and allowed us to enjoy a better economic outlook in life? America did not force us to embrace her ideals and does not stop us going back from where we came from.
What is troubling me the most is that, in spite of unmistaken facts, someone, even being a family member of those responsible for this attack, can disregard them and issue appalling accusations that this is an FBI frame-up….
As a cancer patient and the race director of our Ann Arbor's Gallup Gallop, I invite all my community fellows to stand tall, work together and show support for causes that we care for. Let's run together for life and the common good, wherever our trails may take us to.
As a naturalized citizen, I will never waver on my credo:
I pledge allegiance to the Flag of the United States of America, and to the Republic for which it stands, one Nation under God, indivisible, with liberty and justice for all.
Hate kills - let's run away from it!
Victor Dobrin
Ypsilanti