Posted on
Thu, Jan 3, 2013 : 5:50 a.m.
East Huron high-rise design is too imposing for historic Ann Arbor neighborhood
By Guest Column
In regards to the informative article written by Ryan Stanton "Historic District Commission takes stand against student high-rise proposed on East Huron" and posted on December 17th, 2012; my comments are as follows:
I understand the need for more student housing and the building of such facilities to house new students and entices new business. I agree that a project related to adjacent businesses and housing needs is a positive step to keep the city walkable.
This project should be integrated within the existing city and I would agree that the North Division neighborhood is a decent location; however, the design is oppressive to say the least.
This is not Huston, Texas; A place without zoning. A place where a 30-story skyscraper are built next to gated two-story luxury condo complex which is next to a fast food place neighboring single family residential houses and a church.
This is not Manhattan; a place where land is so expensive, you must build up. The average rent in Ann Arbor is roughly $800 a month as compared to Manhattan, where it is around $3,000. Land is more valuable there and thus a denser population.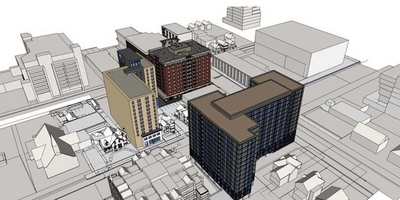 I think the design needs to be scrapped and re-proposed so it is not so imposing on the mostly residential historical district. The city officials and members of the "development team" should take a page out of New York City (circa 1916) where zoning regulations were passed to make large building have setbacks as they were built-up from street level. This allowed for light to get to the pedestrian traffic and made the building less imposing for the surrounding, low level neighborhoods.
This is why a building like the Empire State Building (to pick a very overbearing building) raises 6 stories and then cuts back on the site/building. If this East Huron Street Development goes through, the folks that live due north of this development will be denied sunlight from mid-morning to late evening due to the dense mass it creates on that site.
The design is absurd and offers no correlation with its neighboring historical district or the city as a whole. Have we become a society where giant blocks with punched windows get by just because they are mixed use and are using a modern brick color?
This project has a stark resemblance to that of the many failed "housing projects" we find in our cities today that have come from the Le Corbusier school of thought. When we put low-income people in 10 to 20 story buildings because it looks nice, we ruin any effort for community (both inside the building and with the surrounding area). This can also allow crimes to spread within the development because of this disconnect or alienation the building has created.
I think Humphreys & Partners have failed the City of Ann Arbor by submitting a design that is mostly stagnate to its surroundings and lacking a relationship in scale to harmonize with the existing historical district.
In turn, the City of Ann Arbor has failed the citizens in the surrounding neighborhoods by allowing something this poorly designed to be allowed to neighbor such a prevalent historical residential district.
This is Tree Town not Tower Town. Please, let's keep it that way.
(Scott E. Kree is an urban planner and graduated from Eastern Michigan University. He was raised in Brighton and currently lives in Holly.)