Posted on
Sat, Mar 26, 2011 : 10:29 a.m.
Q&A with Susan Martin: Eastern Michigan University president talks about state budget cuts
By Lucy Ann Lance
Growing up on a Michigan dairy farm set the stage for Eastern Michigan University President Susan Martin. After taking a test in high school and scoring well, she earned a scholarship that paid her tuition and fees at Central Michigan University. She was a first-generation college student in her family, and following graduation ended up only $1,000 in debt.
Upon my own graduation from the University of Michigan in 1983, it took two full-time jobs and eight years to pay off my student loans. Higher tuition costs impacted by dwindling resources are strapping today's students and colleges at an even greater rate.
Dr. Martin recently appeared before lawmakers in Lansing, making an impassioned plea against the proposed cuts in state funding aimed at Michigan universities. She joined my colleague, Dean Erskine, and me on 1290 WLBY one morning this past week.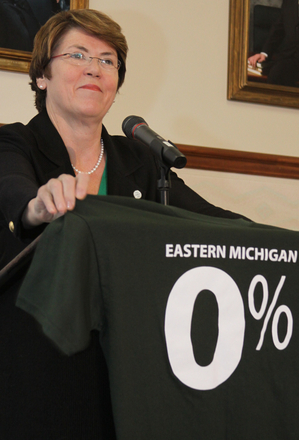 Ronald Ahrens | For AnnArbor.com
Lucy Ann:
Eastern Michigan University faces a cut of nearly 20 percent in state appropriations, despite holding the line on tuition, room, and board this past fall with its 0-0-0 initiative. What impact will the governor's proposed cuts have on the Ypsilanti campus?
Dr. Martin: Well it's a very difficult impact. As you know, we've held the line on tuition. We haven't been doing increases of 5-7 percent, or anything like that. In fact, last year we did zero, zero, zero tuition, room and board, while still investing in facilities like the science complex, renovating resident halls, living and learning communities, hiring new faculty, and increasing financial aid. Now to absorb a 20 percent cut in our state appropriation is draconian. We expected some cuts, but nothing in the size of 20 percent. I know the governor says he'll reinvest in the future of higher education but to put it in perspective, our appropriation has gone from about 70 percent of our funding over the past 20 or so years down to about under 20 percent next year. We currently get $76 million and this will cut it to about $61 million. Let's say things go well in fiscal 2013 and they reinvest in higher education; that would probably be a 2 percent increase, which would get us back to $62 million, maybe $63.5. I'll be long retired if we ever recover to $76 million, even if there is an intent to reinvest. We will have to do some serious work to figure out what we are going to do to absorb this cut without damaging our students' education and trying to keep it affordable.
Lucy Ann: Dr. Martin, that drop in state appropriations from $76 million to $61 million, how does that contrast to your overall budget?
Dr. Martin: Our overall budget is about $280 million, so it's about a 4-5 percent reduction.
Lucy Ann: The majority of your funding comes from tuition?
Dr. Martin: Yes, from our students. As states reduced their funding support over the last several years, we are now 50th of the 50 states in support of higher education. With this newest cut that will assure we hold that title in the indefinite future.
Lucy Ann: Are you considering a tuition increase at EMU?
Dr. Martin: We will have to consider that. We are working very hard to come up with a recommendation for our Board of Regents. We would like to keep it as low as possible but would also like to provide an educational environment and financial aid to support our students, so we have to invest in things that will give them a cutting edge education that is going to make them competitive in the workplace.
Dean Erskine: Dr. Martin, the University of Michigan has a cash cow in its athletic department that funds their athletic teams. EMU does not. Could there be anything on the table that would cut athletics?
Dr. Martin: Well, that's a very small portion of our budget - it's only $10 million. I think at all the MAC schools we try to provide our athletes with an opportunity to participate at a very modest price to the university. Many of these students have higher graduation rates than our overall population, and they are a great addition to our campus. Many of them are paying full tuition fees and are not on scholarships. We will work at making our two key sports - football and basketball - more competitive and revenue driven to support athletics. I'm not sure even Michigan is self-supporting. I think there are only a couple schools in the country that are.
Lucy Ann: So you are not planning to make changes to athletics?
Dr. Martin: We'll do some reductions in athletics and all of our areas, but the potential there to reduce anything is insignificant compared to other things we can do. For instance, we are analyzing our purchasing. What do we buy, how can we get it at an affordable price. I think there are a lot of other opportunities that would be better for us to look at than to fool around with dropping athletics, which could cost us a lot of money in the long run.
Lucy Ann: Gov. Rick Snyder has made it very clear that some money can be made up by reconstructing how we do education in Michigan. Talk about the cost-saving tactics you have already made at EMU.
Dr. Martin: Well, we reduced our employees over the past several years - our staffing levels by 140. More significantly in terms of health insurance, we have about 75 percent of our employees that are paying approximately 20 percent of their overall health costs. That is a big change that we recently negotiated. We will be looking at that as we approach upcoming contracts. We've reduced our energy costs a couple of million dollars and we did a pay freeze for top administrators. We've shown that we've controlled costs by keeping tuition affordable, and unfortunately there hasn't been much reward.
Lucy Ann: What kind of response did you get from the Legislature?
Dr. Martin: Overall, positive. But I think there seems to be a sense in the Capitol of rolling up the budget and just voting on it with large cuts. We'll see what the Republican Caucus and Senate come up with in their budget proposal. It's discouraging, to be honest with you, because this state is falling behind in college degrees and education is the future. When you look at states with good populations, half their adult population has college degrees. Michigan is at about 34 percent. If we were to graduate over a million people with college degrees, a little over 9,000 a year, by 2025 we could get 60 percent of adults. Giving higher education a 20 percent funding reduction is going to make it difficult. It is going to raise costs for students and not a lot of people will be able to afford going to college. It will be not a ticket to the middle class, but a privilege to go to higher education in Michigan.
Lucy Ann Lance is co-owner of Lance & Erskine Communications, which produces "The Lucy Ann Lance Business Insider" (M-F, 8 a.m.-11 a.m.) and "The Lucy Ann Lance Show" (Saturdays, 9 a.m.-12 p.m.) on 1290 WLBY. The programs are live streamed at www.1290WLBY.com, and podcast on www.lucyannlance.com. The complete audio interview with Dr. Susan Martin is posted on her website.