Posted on
Thu, Feb 7, 2013 : 5:57 a.m.
Replacing expired license plate tags easy way to avoid tickets
By Rich Kinsey
'Tis the season for officers to easily spot expired plates. I am not sure why, but I like to write expired plate tickets. I am a terrible procrastinator myself, but as non-hazardous traffic citations go, I like to spot and write expired plate tickets, and this is the best time of year to do that.
Right now, in the first months of the New Year, everyone in the state should have a white or yellow month tab in the upper right corner of their license plate. If they are showing a green month sticker denoting a 2012 plate or, heaven forbid, an orange sticker denoting a 2011 plate, they have an expired plate and are easy pickings for an observant officer on patrol.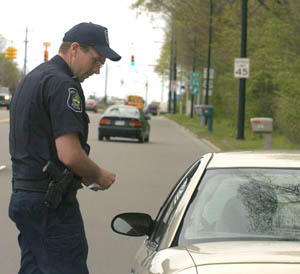 File Photo
Each year the registered owner receives a renewal notice from the Secretary of State in the mail about 45 days prior to the vehicle registration's expiration. This is a reason why you should change your address with the Secretary of State if you move from one address to another. Changes of address on Michigan driver's licenses or state identification cards are free from the Secretary of State and are mandated by law.
Renewing license plates can be done online, by mail or in person and is thus easier than ever to accomplish by the expiration date. If you are late and do not get your license plates renewed by the birthday of the registered owner, the Secretary of State's office will charge you a $10 late fee.
There are several reasons why expired plates are a good violation for an officer to pay attention to. First and foremost, all of us have to pony up the money for our license plate tabs. It is not fun to cut the check, give up the credit card or open one's wallet to pay the Secretary of State for the privilege of motoring on the Great Lakes State's highways and byways, but it is necessary to keep those roads open and reasonably free of potholes that can swallow small cars, blow out tires and bend wheel rims.
Another reason officers should investigate expired plates is because it may be a symptom of a more serious violation. People who have suspended or revoked licenses can not insure their vehicles. Insurance companies will not cover these unlicensed drivers. Without proof of insurance, one can not renew their plates. Therefore expired plates can mean an unlicensed driver, an uninsured motorist or both.
People with warrants also are bashful about showing up at the Secretary of State's office to renew their license plates. Therefore the expired plate may belong to someone with outstanding warrants.
Owners of vehicles also should remember that it is illegal for them to knowingly allow someone who is suspended, revoked or has never attained a driver's license to drive a car. Furthermore if that unlicensed driver gets in crash and the insurance company finds out that the owner and insurer knew they were allowing an unlicensed driver to drive, the insurance company may not be liable to pay for the damages.
It does not seem fair, but remember if you are driving someone else's car that has an expired plate, the police can issue you the expired plate ticket.
Before renewing your license plate, take a look at the license plate itself. Is it readable to an officer following you? If it is rusted or oxidized and can not be read, you might get pulled over by an officer. A license plate has to be readable when operated on the roadway.
When renewing your plates ask for a new plate if yours is rusted, oxidized, faded or worn off. You will not get the same plate number, but you will get a nice clean shiny license plate at no additional charge. Make sure you bring the damaged, rusted, oxidized and unreadable plate in, to the SOS office when you ask for a new plate. If you have a vanity or personalized plate and need a replacement, you will have to contact the Secretary of State office for the availability and processing of such a replacement request.
Proper display of the license plate is key as well. A plate obscured by snow, dirt or grime also is a violation if it can not be read. Plastic holders around the plate that obscure the license plate are illegal and also can constitute an obstruction to the plate.
Full plastic plate covers either clear or smoked are illegal as well. The reason for this is the instance has been known when enterprising scammers have printed color copies of plates on paper or card stock and attached them to cars. In order that they do not deteriorate when they get wet, the scammers then place plastic covers over them; that is why plastic plate covers are illegal.
Remember also, if you are renewing multiple license plates at once, that the month sticker has a number on it corresponding to the license plate it is assigned. Do not mix up the tabs and place them on the wrong license plate. If you do mix up the tabs go back to the SOS office and they will replace them for you — I know because I was guilty of such buffoonery once.
While you are tending to your license plate, make sure that your license plate light or lights are operational. It is not a bad idea to turn your lights on and do a walk around on your car to make sure your headlights and taillights are all operating properly. To check your brake lights' operation turn your hazard lights on and do a walk around.
If you have mobility issues or just want to venture out into the winter wonderland as little as possible, carefully back near a storefront's large plate glass window and make the observation of tail and brake lights using your rear-view mirrors — which also should be in place, operational and unobscured.
Headlight high beams and low beams can be checked from the warmth and security of your vehicle by turning them on in front of your garage door or a wall. Avoid using your neighbor's front picture window for such vehicle inspections, as this might be construed as annoying or creepy.
Lock it up, don't leave it unattended, be aware and watch out for your neighbors.
Rich Kinsey is a retired Ann Arbor police detective sergeant who writes about crime and safety for AnnArbor.com.