Posted on
Thu, Sep 20, 2012 : 5:57 a.m.
Fight the spike in home invasions: Lock your doors
By Rich Kinsey
Late summer and early fall are wonderful times to be a thief around Ann Arbor. The summer sublets are careless as they move out. The returning students moving in create plenty of confusion, and everyone is in a festive spirit.
Students glad to be back in school and away from parents, some for the first time, are ready to party before they get bogged down in pesky schoolwork. Parties lead to bigger parties, and big parties mean plenty of unlocked doors and revelers sleeping very soundly after the parties. It can be a target rich environment for a crook.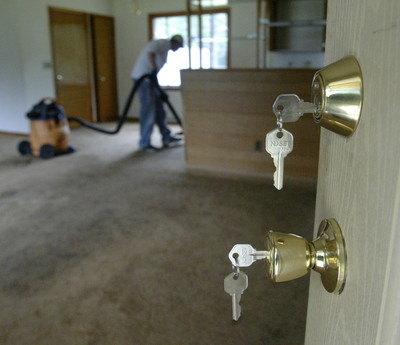 Muskegon Chronicle file photo
Members of the
Ann Arbor Police Department
and their brothers and sisters at
University of Michigan Police Department
know the drill because they have been through it so many times. Trusting students leave doors unlocked, valuables unattended and are unaware of the possible dangers in a college town. Students can be easy targets for those who are criminally inclined.
For the past 10 years or so the city and college police departments in the area work together to try to educate students about crime prevention and safety. Crime prevention and safety can be great life lessons a student can take with them long after leaving college for the "real world."
Pamphlets are placed in "Welcome Packets." Flyers are pinned to bulletin boards. Resident advisers in dorms give a short spiel. Warnings are email blasted. Local media outlets are contacted to spread the word.
I once convinced former Ann Arbor Police Chief Dan Oates to fly a banner around The Big House before several games — it was cheaper than you might think and let's face it we all look up at the banners. My hope was that students scanning the skies for happy hour specials or witty provocative slogans from "adult entertainment" establishments might see the message to lock their doors.
Students, however, do not have a monopoly on leaving doors unlocked. There are many citizens who leave their doors unlocked. Some citizens simply will not lock doors, because they do not think they should have to.
If you think I am overstating this, I am not. Last year when I attended neighborhood meetings, while working for Crime Stoppers, I listened to police officers begging the neighbors attending to lock their doors and report suspicious activity to the police as it was happening. Invariably a citizen would get up and comment that they never locked their door growing up, still do not and felt they should not have to lock their doors.
Well I don't think I should pay $4 for a gallon of gas. I wish I did not have to take my shoes off at the airport to get on a plane. I want to pay a nickel for a candy bar just like I did as a kid. Tough luck, Rich. We all pay four bucks a gallon or we do not drive. We wear easily slipped off shoes and socks without holes if we want to fly. We should not be eating candy bars anyway, so it is probably good they are not still a nickel—especially Almond Joys or Twix in my case. The fact of the matter is time marches on, the world changes and we must adapt.
I certainly wish we lived in a society that we did not have to lock our doors, watch our valuables and be wary of criminal predators, but we do not. It is really up to all of us to take the responsibility to safeguard our loved ones, ourselves, our neighbors and our valuables. Lock it up, don't leave it unattended, be aware and watch out for your neighbors.
Lock your doors and windows where you live. Lock your car, bicycles and anything else of value that can be stolen.
Don't leave jewelry, cash, purses, briefcases, laptop computers, smartphones or any other valuables unattended. Keep those items with you or ask someone you trust — that is not the stranger at the next table, but a trusted friend or family — to watch your valuables if you cannot.
Be aware of your surroundings and, more importantly, the people around you. It is your right as an American to walk freely anytime and anywhere open to the public. However there are places, times of the day or night and circumstances that make it potentially dangerous for you — even though it is your right — to walk alone or even in small groups.
Use the instincts we were given from back when our ancestors worried about being eaten by saber-toothed tigers. If you are nervous or anxious about being somewhere or being in certain circumstances — trust your instincts! Do something to avoid or remove yourself from dangerous situations.
"Watch out for your neighbors" has a double meaning as some of you have figured out.
First and foremost, look out and protect your neighbors so they do not become victims of criminal predators. If you see something suspicious in your neighborhood call 911 and keep watching and reporting what you see.
It might be what you see is legitimate. More than likely if your instincts warn what you see is out of the ordinary and potentially a threat to a neighbor or their property you are correct. Trust your instincts, call the police at 911 and let the cops investigate to confirm or deny your suspicions.
The secondary meaning of watching your neighbors is to remind you that just because someone lives in close proximity to you does not make them a "good" neighbor or someone worthy of your trust.
Neighbors who become trusted neighbors and even friends are worth their weight in gold. Those neighbors "have your back" as you should theirs, but remember trust is built one day at a time and over a long period.
Be careful who you allow into your circle of trust, but always strive to be the neighbor a neighbor would want to have.
Rich Kinsey is a retired Ann Arbor police detective sergeant who now blogs about crime and safety for AnnArbor.com.