Posted on
Sun, Sep 12, 2010 : 8:24 a.m.
From amateur to expert, closing the gap as I get older
By Robert Faber
Editor's note: This is another in a series of occasional columns by long-time Ann Arbor resident Robert Faber on what he describes as his most recently acquired area of expertise - growing old.
I am not the world's worst athlete - just a slow learner.
Golf is a good example of my predicament. True, I've been playing for almost 70 years, but I've not been really serious about the game until the last few decades.
Now I can fully understand those small details that spell the difference between rank amateurism and budding mediocrity. Now that I'm about to break 100 (really, I'm right on the edge) I can attribute the improvement to a better understanding of all those many details that come with age and practice.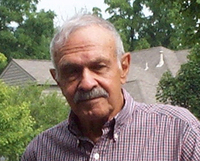 I've increased my pivot, loosened my putting grip and learned to keep my eye on the ball. I know, doesn't sound like much, but it makes all the difference in my game.
It's not just the strength of the player, after all, or the natural grace with which he/she might be blessed, or even the size of the bet that's been wagered during an explosive outburst of frustration triggered by a long series of losses.
It's the calm application of science - and the patience that comes with age - that separates winners from losers in the world of golf. But as I said, I'm a slow learner.
My tennis falls into roughly the same category of moving slowly from totally inadequate to increasingly nearly adequate. I play in a senior men's tennis game with a bunch of youngsters in their 60s and 70s, and, except for my exhaustion half way through the game, I can now hold my own reasonably well.
When I joined the game a few years ago, I was the weakest player of the group, but after calmly analyzing my game and the science of returning the ball to the other side of the net, I've learned the basic rudiments of the game and am much less embarrassed - even if rarely proud.
Once again the secret is in the science, understanding the relationship between the ball and the racquet and the boundaries of the court - and myself. (I throw myself into this equation because anxiety to make up for my inadequacy prompts me to run full speed after anything that falls on my side of the net, so that half way through our two-hour game I'm very near collapse.) But here again, it's the game's scientific approach that brought me to where I am and gives me hope for the future.
And it's not in just those course and courtside athletic activities that my new skills and higher quality performances are revealed.
I started skiing in college untold decades ago, but I was a bit lacking in grace and style. My roommate, already familiar with the sport and reasonably accomplished, helped me up the lower slope of a mountain in New Hampshire, turned me toward its face and gave me a shove. The bottom of that run was separated from the parking lot by a row of steel posts, so without any understanding of how to turn or stop I had no alternative to self-destruction other than to fall on my face just short of the divide. For three days I went up the mountain, came down the mountain, and bounced on my face to stop at the bottom of the mountain. My most impressive accomplishment during that three-day ordeal was survival, but hey, that counts for something.
But then I got married, had children and became a caring and devoted father - a classification that included taking my children to Boyne Mountain, a ski resort in northern Michigan. Problem was that my ski skills were not much improved from those early days of disaster, whereas my older, preteen son was a natural who disappeared after breakfast each morning and returned for dinner -- with a full day's skiing behind him and a new set of skills supporting him.
The intervening years of clash between his grace on the slopes and my inadequacy can be better understood by the advice he offered me much later in our ski life: "Look, Dad, when you're coming down a steep slope with a lot of moguls, you've gotta take each mogul one at a time. Just bounce off the one in front of you, make your turn, then bounce again off the next one. That way you can keep on bouncing and turning all the way down and build up some great speed. It's easy."
It wasn't easy. What turned out to be easy was growing older and less competitive and waiting for the new style of skis to come out — the shorter parabolic skis designed to stroke the ego of aging non-athletes.
The other change that made skiing easier was competing less with my children and more with my very young grandchildren, whom I've brainwashed into thinking me really talented and attributing my slow speed to my desire to stay with them. But even this has a downside. They're growing older and are increasingly aware of their grandfather's shortcomings. But hope for the future remains. Some of my grandchildren are nearing the age of marriage, so maybe I'll have a chance to impress another generation.
And therein lies another benefit of aging: learning that falling short of perfection - or even of adequacy - can be just as valuable and satisfying as winning. As with most efforts, doing our best with what we've got - and enjoying the experience - is often enough to define victory.
Bob Faber has been a resident of Ann Arbor since 1954. He and his wife, Eunice, owned a fabric store and later a travel agency. He served a couple of terms on the Ann Arbor City Council. He may be reached at rgfaber@comcast.net.