Posted on
Sun, May 9, 2010 : 6 a.m.
Fuel tax hike needed to rebuild Michigan roads and our economy
By Tony Dearing
Counties in Michigan have returned some 100 miles of paved roads back to gravel because they couldn't afford to maintain them.
That simple fact underscores what a state Transportation Funding Task Force warned us back in 2008, when it said Michigan isn't just underfunding road repairs; it is now disinvesting in its roads.
Our highways and local roads are among the worst in the nation, and worsening every day. The task force and other groups, including the American Society of Civil Engineers Michigan Section, say the state faces a critical shortage of funding for roads, and must find new money to fix its crumbling streets and bridges. That revenue could come from a bill in the state House that would raise the gasoline tax by 4 cents gallon this year and another 4 cents a gallon in 2013.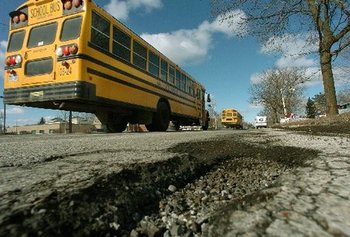 In these hard economic times, we know there is little public appetite for higher taxes. But given how dire the condition of our roads is, and how important fixing them is to the economic future of Michigan, we support this proposal, as long as it is coupled with guarantees that the funds will not be misdirected and that best practices will be used in the repair and construction of roads.
The current miserable condition of our roads is obvious. In a national survey, truck drivers ranked Michigan roads as the second worst in the country. Here in Ann Arbor, the decrepit condition of the East Stadium Boulevard bridges is a constant reminder of how sorely we have neglected our infrastructure.
The issue has been studied to death, and these studies point to the same problem: Michigan just isn't spending enough on its roads and bridges. Funding for roads was stagnant for a decade, and has fallen in real dollars over the past 18 months, as the struggling economy and reduced travel generate less revenue from fuel taxes.
This decline in state funding is a double-whammy, because it costs us federal dollars as well. Michigan will have to return almost $1 billion a year to the federal government because we lack the local dollars to match that money.
Hiking the gas tax

The proposed legislation would:

Raise the state gas tax from 19 cents per gallon to 23 cents in 2010, and to 27 cents in 2013.

Raise the state tax on diesel fuel from 15 cents per gallon to 21 cents in 2010, and to 27 cents in 2013.

These increases would raise an estimated $240 million this year, and up to $480 million annually beginning in 2013.
When we look at what's necessary to rebuild our economy, rebuilding our roads is an essential ingredient. Key sectors of the Michigan economy, including manufacturing, agriculture and tourism, depend on transportation. According to the 2008 task force report, Michigan would need to spend $6.1 billion a year to meet its basic needs for road and bridge work - about twice what it's spending now.
Michigan has not increased the fuel tax since 1997, a reminder that dealing with this issue in better economic times would have reduced the severity and cost of dealing with it now. But deal with it we must. A bill co-sponsored by state Rep. Pam Byrnes, D-Chelsea, would generate an additional $240 million a year for roads now, and $480 million a year once it goes fully into effect.
Raising the fuel tax is a simple and direct solution; those who use the roads pay for their improvement. We're sensitive to concerns about raising fuel costs, but this bill would inflict little pain at the pump. A person who drives 15,000 miles a year in a car that gets 20 mpg would pay an extra $30 annually. That's a bargain, given estimates that driving on bad roads costs the average motorist anywhere from $400 to $500 a year.
While we see the need for a modest increase in the fuel tax, we can only support it if it is coupled with a high level of accountability. In the past, money meant for roads has been diverted to other purposes, and an iron-clad guarantee against that must be built into any legislation. It also makes little sense to invest more in roads without addressing the factors that cause roads to worsen prematurely, including weight limits for trucks and inadequate construction standards that result in roads needing repair again just a few years after they were resurfaced.
The proposed legislation specifically states that money from a higher fuel tax must be placed in a Transportation Investment Fund that the state may not dip into for other purposes. But it does not address better construction standards for roads, and we believe it must.
Higher taxes are not the answer for every problem facing Michigan. But if we're going to turn this state around, we have to be willing to invest in something as vital as infrastructure. Our streets and bridges are crumbling. If we continue to neglect them, we risk sending our state down a road of perpetual decline - and one filled with potholes at that.