Posted on
Wed, May 23, 2012 : 5:59 a.m.
Gay marriage in America: A measurement of citizenship
By Robert Faber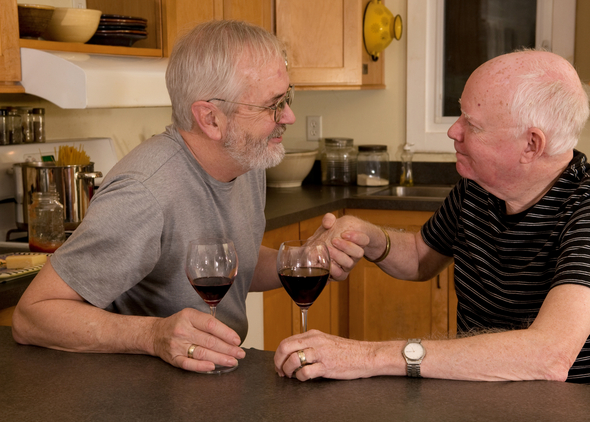 Ejwhite | Dreamstime.com
Editor's note: Robert Faber writes occasional columns for AnnArbor.com about aging, politics and other issues.
I didn't know him, but I do remember the talk surrounding him, the ridicule enveloping him. He was in my high school during my years there in the early 1940s and I remember that the talk was antagonistic and hinted at violence, although I was unable to confirm the fact of it. We didn't use the term at that time, but he was gay.
A few years later, a friend was serving in the army in Europe. He and some fellow soldiers were having an off-duty night in the bar when several of them went to the men's room where they were approached by a stranger — and they beat him mercilessly. My friend was appalled, but felt unable to intervene. This victim, too, was gay.
Ours is a nation that has long been an international symbol of freedom and equality, but homosexuality was and remains a continuing target of derision and threat. The physical abuse that marked such antagonism was widespread and generally disapproved, but rarely condemned. Now, much of the violence of that antagonism has dissipated, but too much of the discrimination remains.
Of all the many legislative abuses to our national renown, among the most offensive is the audacity of our federal government to determine who and how we may love.
As a nation of 313 million citizens with roots in all the many customs and religions and traditions of the entire world, it is hardly surprising that issues arise that attract some segments of our society while repelling others with equal passion. Fortunately, most of the overt antagonism and occasional violence that haunted many of our people those decades ago has dimmed or disappeared. But much of the bias and discrimination remains.
One of today's more vitriolic social disputes centers on the matter of same-sex marriage, with each side, of course, claiming the higher moral ground. The basis for the opposition to the right of gays and lesbians to marry seems to be centered either on a personal distaste for the concept, or on the conviction that it is against the teachings of the Bible.
Matters of personal taste, of course, defy reasoned analysis or objectivity, but objections to legalizing homosexual marriage, based solely on biblical interpretation, are more open to objective evaluation. Many organized religions agree with the U.S. Conference of Catholic Bishops, for example, that "marriage is a ... lifelong union (emphasis added) between one man and one woman," or with the Evangelical Lutheran Church which defines marriage as "a lifelong covenant of faithfulness between a man and a woman."
The conflict between the morality and reality of these positions, however, is evident in the fact that very nearly 50 percent of traditional marriages escape that "lifelong union" by divorce, a percentage probably surpassed by the number of extramarital relationships tainting the legally and religiously blessed marriages.
But another and very serious set of conditions is being buried by such faith-based considerations. Overlooked or ignored are those principles that have built and guided our nation since its founding. In its search for "a more perfect Union," for example, and its commitment to "promote the general Welfare" and its pledge to "secure the Blessings of Liberty to ourselves and our Posterity," our Founders and their Constitution designed a template for the goals and aspirations of our people — and set its standards very high.
The dreams and ambitions of that document extend well beyond the rules and regulations controlling our performance, being much more an exultation of principles than simply a formulation and listing of the laws of the land.
Currently and completely contrary to those principles is the legislative intervention in the lives of citizens for actions that have no impact on anyone beside themselves. Of all the many legislative abuses to our national renown, among the most offensive is the audacity of our federal government to determine who and how we may love.
Maintaining the principles established by our nation's moral leadership follows no clear and precise route, but its goals of a continuing life of liberty and productive fellowship are worthy objectives for us all. The rules of religion are valued guides for those who adhere to the particular principles of each sect, but have little application for citizens following a different path.
Our nation, our democratic principles, are largely focused on the security and rights and freedoms of our citizenry — the individual members of our nation — as long as none of those rights interfere with those of their fellows. The intervention of rules and regulations formulated by private groups to guide the performance of an unaffiliated citizenry, however honorable, is in sharp contradiction to the principles that have built and guided our nation since its founding.
The right of gay citizens to marry the person they love is precisely the kind of rights promised by our Constitution and assumed by our citizenship and should become a basic part of our national character.

Bob Faber has been a resident of Ann Arbor since 1954. He and his wife, Eunice, owned a fabric store and later a travel agency. He served a couple of terms on the Ann Arbor City Council. He may be reached at rgfaber@comcast.net.