Posted on
Wed, Mar 13, 2013 : 5:30 p.m.
Gay marriage issues must be decided by law, not religion
By Guest Column
Later this month the Supreme Court will hear arguments on whether the Defense of Marriage Act is unconstitutional. Societal, legislative and judicial conditions very much mirror those of 1966, when arguments were heard in the Loving v. Virginia case that sought to overturn miscegenation laws.
When Loving was decided the states had divided on whether to permit interracial marriages. Many had constitutional amendments to prevent it while approximately 14 states allowed it. This then became an argument about equal protection under the law. Much like it is today with regard to same-sex marriage. In fact many of the same arguments today against same-sex marriage mirror those arguments used against interracial marriage.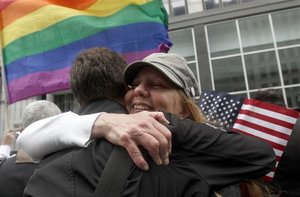 AP Photo
A favorite (although misplaced) argument by those against same-sex marriage is "well, if we allow gay marriage, then we have to allow all kinds of stuff." And people's representative, Rick Santorum, used this idea to make his infamous "man on dog" case against gay marriage. However, the original argument goes back to R.D. Mcllwaine, Virginia's assistant attorney general, in Loving:
It is clear from the most recent available evidence on the psycho-sociological aspect of this question that intermarried families are subjected to much greater pressures and problems then (sic) those of the intermarried and that the state's prohibition of interracial marriage for this reason stands on the same footing as the prohibition of polygamous marriage, or incestuous marriage or the prescription of minimum ages at which people may marry and the preventing of the marriage of people who are mentally incompetent.
Sounds familiar doesn't it? However, the attorney for Loving responded:
The standards of consanguinity, mentality, age and number of spouse and so forth apply to all races, white, black, yellow, it doesn't matter to all races without any distinction, but now the racial factor is superimposed over and above this and is therefore is not on the same level.
This argument made by Mcllwaine failed then and the argument made today also should fail if the equal protection laws are applied to the cases before the Supreme Court today.
No matter what your religious beliefs about marriage, your religion and your belief is just that - yours to hold, not to impose on others. That is not the standard that should be applied in deciding whether or not same-sex couples should be allowed to marry. The Constitution provides for freedom of religion but prohibits religion from governing our laws.
Many will argue that this should be decided by the people, or by extension, the people's representatives. I would counter that the people have often been on the wrong side of history. The majority should never be permitted to oppress the minority because we no longer have a democracy at that point. If left up to the people when we would have ended slavery; ended segregation; allowed women and blacks to vote; no longer deemed blacks and women property of men? I don't know the answer do you? However, one thing I am sure of the court is exactly where this issue needs to be decided.
Wendy Cooper is an Ann Arbor resident.