Posted on
Thu, Nov 29, 2012 : 5:57 a.m.
Holiday gift ideas for at-risk relatives living alone
By Rich Kinsey
Looking for good holiday present for the person who has everything, wants nothing but a visit and hug and lives alone? How about a present that could easily save that person's life?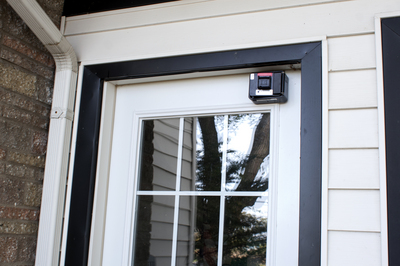 Jon Garcia | MLive.com
The police receive many calls to "check on the well-being" of citizens. These calls may be from an out-of-town family member who called the house of a loved one, when they should be home, and no one answered the phone. The call may come from a neighbor who sees newspapers or mail collecting and has not seen their neighbor for a while. Many times these calls come from letter carriers or newspaper delivery people who notice mail or newspapers collecting on the porch.
No matter who makes the call, the police will investigate. The officer responding will first try the doorbell or knock on the door. The next step for the officer is to check exterior windows to see if they can see inside to see if there is a problem.
Officers will also be using their noses to detect the unmistakable odors of decomposition—if detected — the officers will soon be having a "bad day at the office" and the original caller will be receiving tragic news. Thankfully, most "check on the well-being" calls do not end this way.
During daylight hours or early evening, the officer might do a neighborhood canvas and knock on neighbor's doors to solve the mystery. Many times neighbors will know when someone is home, on a trip or had a recent medical emergency—for instance if an ambulance had responded. The officer also will inquire if anyone has a key to the neighbor's home.
Police operators and dispatchers may make calls to hospitals, but will normally only get information if a patient has been admitted—not for instance if they are being treated in the emergency room. Depending on the hospital and that hospital's interpretation of the Health Insurance Portability & Accountability Act (HIPAA) Privacy Rules, the police telecommunicator may get no information.
The officers assigned to "check on the well-being" are faced with a dilemma if they have not found a key. Should they force entry to check inside the home in case someone is in need of medical assistance or worse deceased? It sounds like an easy question, but it is not.
If the person being checked on just decided to take a trip and not tell anyone and the police broke in to check on them, they will be plenty cranky when they return and have to replace a door or window. When they find an officer's business card or note on the dining room table, they will call the police inquiring who will pay for the damage. They will most likely be disappointed with the answer.
A great solution to this dilemma might make a great present. A Knox-Box can be mounted outside the residence. A Knox-Box is a strong steel locked box that will contain an extra key to the residence. Fire departments carry a Knox-Box master key, locked on their fire engines that can only be opened by radio signal from the dispatch center. They merely unlock the Knox-Box, retrieve the key and enter the residence to look for the resident of the home. Knox-Boxes are normally used for commercial structures, when the fire department responds to a fire alarm and have to get inside the building quickly. In those cases they cannot wait for a "keyholder" to arrive from who-knows-where. By the time a responsible party with a key arrives the building could have burnt down. On the other hand the fire department does not want to break in if the alarm is false. Knox-Boxes are a good solution.
More and more fire departments are encouraging people with mobility and health issues who live alone to get Knox-Boxes so first responders can get inside without having to break a door or window. Some fire departments in smaller towns and low crime areas are using locked key boxes like those used by real estate agents that fit over the doorknob. The more secure and permanent Knox-Boxes cost around $200 . Check with your local fire department for more information. In Ann Arbor, call 734-794-6961, ext. 49607.
Another great gift idea that goes hand in hand with a Knox-Box, for a person who lives alone and has medical or mobility issues, is a medical alert monitoring system. The prices and programs vary, but basically the person who lives alone and might be in danger wears a radio-controlled call button on a necklace or bracelet. If they are having a medical emergency or have fallen and cannot get up, they push the button and activate the system.
The monitoring company then calls the local emergency medical services and sends help. Basic monitoring for these systems is about $30 per month. Some of the advanced models are programmed to activate if a person is prone during a time the person would not be sleeping, but they are more expensive.
Both of these potential presents are a bit expensive, but they might afford concerned out of town family members some piece of mind for the safety of their loved one who lives alone. They certainly assist first responders getting help to those in need more quickly and eliminate the potential damage to property when the police "check on the well-being."
Lock it up, don't leave it unattended, be aware and watch out for your neighbors.
Rich Kinsey is a retired Ann Arbor police detective sergeant who now blogs about crime and safety for AnnArbor.com.