Posted on
Tue, Apr 10, 2012 : 6:59 a.m.
Half-century-long Michigan basketball fans: We've been priced out of Crisler Center
By Guest Column
Ann Arbor.com published an op-ed piece a few weeks ago that was written by a gentleman expressing his frustration about this year's terms for buying University of Michigan basketball season tickets (New U-M basketball ticket fees are an assault on the most loyal and long-time fans). The big difference between his situation and ours is this: he purchased tickets for 30-some years; we purchased tickets for more than 50. That's right, we go back to watching basketball in Yost. The year Crisler Arena (now Crisler Center) opened, we sat in the sixth row at mid court.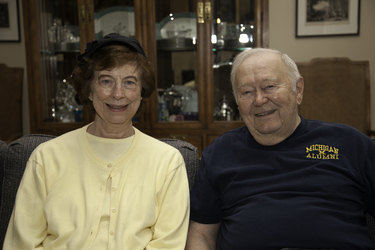 Steve Pepple | AnnArbor.com
We've been moved around a bit but we have always been in the sixth row and a good spot on the court. However, this year we have been classified as not good enough fans to qualify for the privilege of purchasing the seats we have enjoyed all these years. It is true we have not contributed thousands to the Athletic Department. Our meager discretionary funds have been spread around.
The Athletic Department generously offered to let us buy other seats, seriously removed from what we have had. IF we had qualified for our seats, the "fee" would be $500 this year and $1,000 next year, that would give us the privilege of buying those two tickets. The actual tickets would be an additional approximately $900. U of M basketball and football have become entertainment of the wealthy!
We still enjoy cheering on the Maize and Blue so we are simply shifting gears and recommend this as a solution for the many others who have been disqualified from their basketball spots. We're going to cheer on the LaCrosse team. For five or ten dollars we go in, sit where we choose among the enthusiastic loyal fans. They are a varsity level sport and truly appreciate our support.
If LaCrosse isn't right for you, how about softball or swimming or track. They are all good Michigan sports and affordable family fun.
With the money you will have left over give to your favorite charity, your alma mater or North Star Reach, the camp for children with serious health challenges that the U-M Health System is developing on Patterson Lake.
There is life beyond basketball!!!
Russ and Dot Reister live in Chelsea and are longtime Michigan sports fans.