Posted on
Sat, Feb 27, 2010 : 4:54 p.m.
Health care bill 'isn't perfect, but it is a giant leap forward'
By Guest Column
You might not have known it from the discussion at Blair House Thursday, but Republicans were for much of the Democratic heath reform package before they were against it. In 1993, Republican Senators supported a bill that would have:
Banned discrimination against people with pre-existing conditions.
Required employers to offer insurance, as well as required people to buy insurance.
Reduced growth in Medicare spending.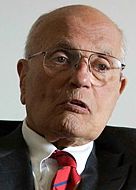 But now, for curious reasons that I cannot figure out, my Republican colleagues refuse to even consider this package now.
I've been a part of many bipartisan efforts to write good legislation, but unfortunately what happened at Blair House was not one of those moments due to the obfuscation on the part of my Republican colleagues. We saw another example of why Americans are so angry at Washington. 
They see politicians twisting the facts, like when Republicans falsely claimed the CBO said that the Democratic bill would raise health care premiums, when in fact it would lower premiums. Perhaps in his closing remarks, the President gave Republicans reason to reconsider their tactics. Maybe we'll see something good signs the days ahead. I hope we can still find a serious partner in legislating and governance.

When asked about health care what kind of health care plan I want I have often quoted Deng Xiaoping and said 'It doesn't matter if a cat is black or white, so long as it catches mice.' I have long argued for Medicare for all, joining my good friend Ted Kennedy in that pursuit. But I'm not one to let the perfect be the enemy of the good. As I said during the summit, the last perfect legislation was the Ten Commandments. 
This bill isn't perfect, but it is a giant leap forward. Social Security and Medicare were not perfect when we passed those bills either, but we improved on those laws over time and they have been tremendously successful. We need to act now. We must get insurance for tens of millions of Americans who currently have none. We must protect Medicare, a bill that I worked on in 1965 when it became law, and make sure our seniors can continue to rely on it. We must lift the burden on many of our businesses, from small entrepreneurs to large manufacturers, now being hammered by out-of-control, ever spiraling health care costs.
U.S. Rep. John Dingell offered this guest opinion piece on the developments in the health care reform debate this week.