Posted on
Sun, May 19, 2013 : 5:55 a.m.
Hideaway lane serves as example for future opportunity in Ann Abor's Northside
By Letters to the Editor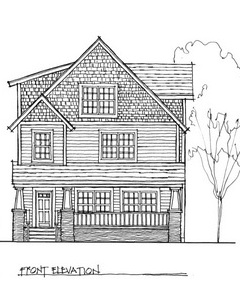 This is in response to the article,
19 new Old West Side-style homes coming to Ann Arbor's North Side
Hideaway Lane is very close to some of Ann Arbor's largest employers (the University, the University of Michigan Medical Center, Toyota Technical Center, and Domino Farms, to name a few); as such, a neighborhood of single-family homes is appropriate. However, these prospective residents are often to some degree transients, have spent time in larger metropolises, and in general are comfortable with a wider breadth of architectural styles and neighborhood types than just that of the Old West Side.
Unlike many districts in Ann Arbor, Hideaway Lane falls outside the purview of historical preservation rules. What if we were more adventurous in exploiting that fact? What if we, noting the gap in the City Master Plan directives, began envisioning a new kind of neighborhood for the next generation of Ann Arborites - what if we dared to imagine this as the future Old North Side? Old West Side residents enjoy a sense of community fostered by their covered front porches and tree-lined streets; to what unique attributes could North Side neighborhoods be laying claim?
Let's be honest, friends: this is a step up from the blank-faced tower that will soon be looming over the Old Fourth Ward. But you and I know Ann Arbor can do so much better than "not worst, at least".
Jessica A.S. Letaw