Posted on
Sun, Feb 7, 2010 : 6:17 a.m.
High-speed rail would get Michigan's economy back on track
By Tony Dearing
Michigan rode the automobile to prosperity in the 1950s and '60s. But now we find ourselves falling further and further behind in the new economy. If we hope to catch up, one of the answers has to be high-speed rail.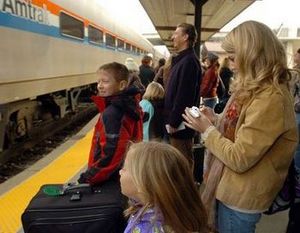 That is why it's disappointing to see Michigan's efforts toward high-speed railroad service languish, while the federal government funds similar projects elsewhere in the Midwest, as well as in states like California and Florida.
Yes, Ann Arbor and the state as a whole will benefit from the $244 million in federal stimulus funds that were announced last month. That money will improve the existing Amtrak service between Detroit and Chicago, which stops in Ann Arbor. We welcome any federal investment in rail service, but these improvements will not bring Michigan closer to its goal of high-speed rail service.
If Michigan is to regain its competitiveness for new industry and 21st Century jobs, it cannot afford to lag the nation on an issue as important as high-speed rail. The state's vision for fast, convenient, reliable rail service between Detroit and Chicago is laid out in the Midwest Regional Rail Initiative, a plan that's been in the works since the mid-1990s.
To understand how Ann Arbor's future economic health is tied to high-speed rail, consider the case of Menlo Innovations, a local high-tech company that has enjoyed rapid revenue growth over the past five years, despite the down economy. Menlo CEO Rich Sheridan says high-speed rail would be a boon for his company, helping him generate more business out of the Chicago market, and helping him hire talented employees who are attracted to areas that have good mass transit.
The current service from Detroit to Chicago is one of the nation's most heavily used outside of the East Coast, carrying 472,000 passengers in fiscal 2008. Ann Arbor was Michigan's busiest stop on the route. But the trip takes five and a half hours, and the service doesn't run frequently enough or reliably enough.
Super-fast rail service of 220 mph isn't feasible in the immediate future, but service of 110 mph would be. The goal of the Midwest Rail Initiative is cut nearly two hours off the travel time between Detroit and Chicago, and run nine trains a day. That would make the service much more viable for business and leisure travel, and create new economic opportunities for communities along the corridor, generating both construction jobs and permanent employment.
The Detroit-to-Chicago route has some inherent advantages for future high-speed rail. The condition of existing tracks is among the best in the country, and the 97 miles of track that Amtrak owns between Kalamazoo and Porter, Ind., is the longest stretch of track the company owns outside the Northeast.
The investment required for high-speed rail would be substantial - in the billions. That's expensive, just as it was expensive to build the infrastructure to support the auto industry that enriched Michigan in past decades. Now we find ourselves a Rust Belt state struggling to compete with more prosperous regions. A failure to develop high-speed rail will leave us even less competitive.
Last year, the state applied for up to $800 million in federal funding for high-speed rail. We must continue to press for a share of federal investment in this important form of transit. Communities like Ann Arbor must demonstrate their strong support for high-speed rail and citizens should urge their state and federal lawmakers to back funding for this service.
Because Michigan's economy has been so reliant on the auto industry, development of mass transit has lagged here. We can't let our love for cars leave us blind to the importance that fast, convenient, reliable mass transit will play in the economy of the future.
At a time when we have the nation's highest unemployment rate and lead the country in population loss, we could ask, what has become of Michigan? The better question is, what should Michigan become, and how do we get there? The answers are not easy, but one way we could get there would be via high-speed rail.