Posted on
Thu, Jan 17, 2013 : 7:30 a.m.
Honest self-reflection is key to successful aging for many
By Robert Faber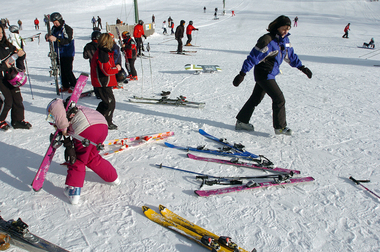 File photo | Lon Horwedel
Memories accumulated during the years of a long life can be a great source of wisdom — or at least of information upon which we might draw. On the other hand, reviewing those old memories with the objectivity of the intervening years can be more troubling than reassuring, disrupting the pleasant fantasies those memories had encouraged. It all depends on what we choose to recall and how honestly we review it.
Several years ago, flying home from a ski trip in Aspen with my wife and daughter and her family, I was tired. I was worn out, aching from trying too hard to keep up with my 11- and 13-year-old granddaughters and troubled by my inability to do so. I was 83 years old and had just finished writing an article that was dismissive of the alleged shortcomings of old age — an attitude that suddenly and uncomfortably was revised by four days of exhaustion and defeat.
And that's how quickly my view of my world and of myself was changed.
However, not for nothing did I survive all those years of self-delusion. I learned a lot — not necessarily about skiing, but about hiding or revising the truth when it serves my purpose. As a loving grandfather skiing with his grandchildren, for example, I would often come to a stop part way down the slope to watch the kids, ostensibly in order to critique their style — or to be ready to assist them if they fell — or perhaps simply to praise their performance... certainly not simply to catch my breath.
They may not have fallen for that ruse, but I did.
In the worlds of business, sports and politics, the competitive spirit is a basic requirement for success, but after a certain age, the ability to compete effectively begins to fade. We grow older and weaker and our interests move in other directions, while the skills and goals of earlier years become increasingly inconsequential.
And therein lies the biggest threat of all. The fact is that even without the legs to out-ski our grandchildren, we can still have the awareness of who and where we are and the drive to stay on target. That is the key to staying ahead of the game.
Those of us on the outer edge of aging are limited in our choice of actions and of the skills and energies available for implementing those choices, but as long as we remain aware of the continuing problems of society and of the needs of our neighbors, we can still make a difference. And the effort to make that difference determines the way in which we see our future and ourselves.
As youngsters, even as middle-agesters, we were competitive and reasonably confident, prepared to fight for success in whatever contest attracted us. Now, slowed and weakened by age, we are less confident, but are still able to make our mark in contests worthy of our interest.
So once again I quote my intellectual hero Yogi Berra, who wisely noted that, "It ain't over 'til it's over." And what more than that do we need to know?
Robert Faber has been a resident of Ann Arbor since 1954. He and his wife, Eunice, owned a fabric store and later a travel agency. He served a couple of terms on the Ann Arbor City Council. He may be reached at rgfaber@comcast.net.