Posted on
Sat, Jan 26, 2013 : 4:15 p.m.
Resident sad to see 'gem' of an art center overlooked
By Letters to the Editor
I was distressed to hear the city council is not aware that Saline has an art center. It's called Two Twelve Arts, and has been around for over six years. Two Twelve has been active in our community in many city events, like the Celtic Festival, Summerfest, and Harvest of the Arts.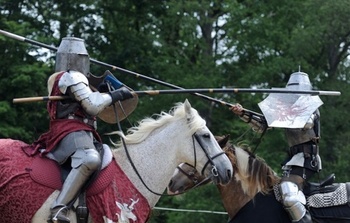 Sir Robert of Wells, left, and Sir Tirant of Kent, put on a jousting performance as part of the Saline Celtic Festival at Mill Pond Park.
Saline is a Main Street USA city, largely due to the efforts of artists from Two Twelve. Hundreds of children have taken classes at the art center, or one of the off-site art opportunities. Saline is full of creative people, and I am so lucky to have met many of them at Two Twelve Arts.
I am one of the people whose lives have been changed, and greatly enriched by Two Twelve Arts. I have learned from skilled artists in water color and acrylic painting, pottery, art journaling, glass fusing and jewelry making. There are many other classes available in other disciplines.
The Saline Area Library collaborates with the art center, and has shown Saline citizens art that was made by their talented neighbors. The changing display has highlighted quilting, painting, pottery, doll-making, and other skills. We are so fortunate that it is privately funded, but available for all to use. Two Twelve Arts Center is a gem for the city, attracting people from a wide area, due to the friendly and helpful staff, and wide array of art classes.
Of course, a cultural center would be a great addition to Saline. And more art classes, music and dance, and space for studios would be wonderful. But don't discount the terrific place we already enjoy.
I'm certain that you will not overlook Two Twelve Arts in the future.
Kat L. Campau
Ann Arbor