Posted on
Sun, Jul 8, 2012 : 5:48 a.m.
Public furor aside, rationale for changing Jackson Avenue to three lanes is sound
By Tony Dearing
If public opinion weighs heavily against a proposal to convert a portion of Jackson Avenue in Ann Arbor from four lanes to three, past experience argues in favor of it.
That's why we are finding it hard to fault Michigan Department of Transportation officials for moving ahead with the change, despite the fury it's engendering in the community.
And what a fury it is. In a recent poll among AnnArbor.com readers, more than 2,500 people responded, and 62 percent were against it. Angry commenters on our web site have described the idea as "awful,'' "asinine,'' "insanty'' and worse.
As vehement as the opposition has been, it is reminiscent of similar outcries that rang out in this community when other streets - including Platt - went through a similar conversion in past years. But those changes achieved what they were intended to do, which was to improve traffic flow and decrease accidents, and we hear nary a concern about them these days. Given that experience, we are open to the Jackson Avenue conversion. We suspect it will turn out to be a similar non-issue once it's in place.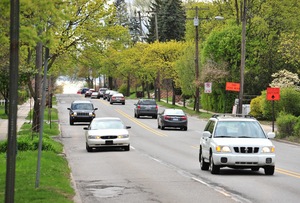 Ryan J. Stanton | AnnArbor.com
The current plan calls for converting Jackson Avenue from four lanes to three lanes, with a center-turn lane, from Burwood Avenue to Revena Boulevard. The work will be done in 2014, when MDOT resurfaces Jackson and Huron Street.
While opponents of the plan have many objections, a primary one seems to be the concern that it would somehow exacerbate the traffic bottleneck that occurs at Jackson and Maple Road during rush hour. That is indeed a nightmarish intersection at peak times, but there's not a reason the Jackson Avenue change would necessarily make it worse. Jackson will remain a four-lane street for nearly 1,000 feet approaching the intersection, and most of the traffic that chokes that intersection at the beginning and end of the day doesn't come from that direction anyway. The higher traffic volumes come from Jackson in the other direction and from Maple. What it would take to reduce that traffic snarl is a whole other issue, and the Jackson Avenue plan isn't likely to affect it much either way.
There also appears to be a misperception that the conversion to three lanes is being done primarily to allow bikes lanes. While that may be a byproduct of the work, it's not the purpose for it. The real goal is to make that stretch of road safer for motorists and pedestrians trying to cross the street. It's simply too narrow - less than 40 feet across, or less than 10 feet per lane - to accommodate four lanes of traffic. Current standards call for at least 11 feet per lane. The narrowness leads to a high frequency of side-swipe car accidents, as well as rear-end collisions, usually caused by motorists trying to change lanes quickly. There were 53 of these types of accidents from 2008 to 2010.
Opponents of the plan ask why the road can't just be widened, but that is no easy solution. This stretch of Jackson is residential, with many driveways and homes already close to the street. Widening the road would be a costly and complex undertaking, in comparison to the relatively easy task of simply re-striping the street for three lanes.
We've also heard concerns that with a traffic volume of roughly 15,500 cars a day, that stretch of Jackson Avenue is too busy to be a good candidate for a three-lane conversion. But that's not necessarily so. By traffic engineering standards, any road with fewer than 15,000 cars per day is considered ideal for that conversion. Any road with 20,000 cars or more is considered too heavily trafficked for a three-lane arrangement to work. Roads with a traffic volume between 15,000 and 20,000 may or may not be suitable, and need to be studied. In this case, the traffic is at the low end of that range, and the recommendation is to go with three lanes.
One final, less serious concern we've heard is that with only one lane in each direction, traffic could be obstructed by AATA buses or garbage trucks. However, there still would be a center-turn lane, and under city code, it is perfectly legal to use the center lane to pass a vehicle like a bus or garbage truck that is moving slowly or stopped. So that needn't be a problem for motorists.
Local and state officials have taken a heap of abuse for even suggesting this three-lane conversion, but when we look at the facts, there's a case to be made for the proposal, and past experience - not just on Platt, but on East Stadium, Green, Huron Parkway and South Main as well - has shown that going from four lanes to three can improve traffic safety.
And while we hesitate to oversimplify an issue that has created such furor, we can't help but observe that it's just paint. They are going to paint new lines in the road. If it doesn't work, it's an easy thing to revert Jackson Avenue back to four lanes. We don't see compelling cause to block this plan. The case for it is rational in a way that overrides the arguments we've heard against it.
(This editorial was published in today's newspaper and reflects the opinion of the Editorial Board at AnnArbor.com.)