Posted on
Thu, Jun 6, 2013 : 5:58 a.m.
Police need thick skin when the joke's on them
By Rich Kinsey
One has to have a "thick skin" to be a successful police officer. An officer will fall prey to verbal onslaughts, embarrassment and criticism, and that is often before they leave the station. If law enforcement peers like you and trust you they will "mess" with you.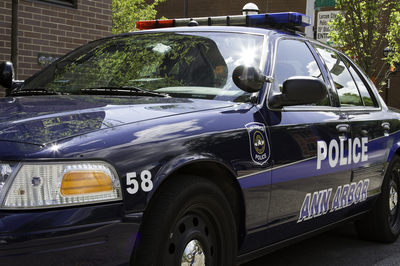 Steve Pepple | AnnArbor.com file photo
Every officer worth their salt has found it to be their "day in the barrel" in briefing. A good-natured
jok
e starts and then everybody who "likes" you will have some sort of comical observation about you.
The taunts are usually kept within the bounds of political correctness and good taste, but sometimes the onslaught comes in so heavily you just want to crawl under the briefing table. All the chosen officer can do is grin and bear it—or—attempt a witty jibe to parry the attack.
One of my days in the barrel came when I was new in the Detective Bureau. When I was a young detective in training, I hated to sort navy blue and black socks in the laundry. For this reason, I bought and wore only black socks every day — even with brown slacks and shoes one day. Who notices socks after all?
It turns out detectives notice everything. They are, by profession and training, very observant.
When my sock choice was brought to light in briefing I was amazed how many "fashion police" experts were on hand that day.
Previously for months, I had lived in constant fear that an open flame or large spark could ignite a flash polyester fire and wipe out the entire Ann Arbor Police Department Detective Bureau, and suddenly I was being hammered for my choice of socks. Really?
Detectives sporting clip-on ties as wide as the blade of a canoe paddle, that were popular a decade — or never — before my training in the "Bureau," seemed to suddenly be certified sock color aficionados. To this day, I am very picky about wearing the proper color socks….and natural fabrics!
One of my "tormentors" that day also was a mentor, friend, adviser and brother of the craft named "Jungle Ted." Jungle Ted, I think, got his nickname because when making a point he was fond of drawing out his, "Wellllllllllll…" to the approximate length and volume of Tarzan's jungle cry.
Jungle Ted was a field-training officer when he was a patrolman and an excellent teacher about how detective work is really done. There was, however, a cost for this transfer of investigative knowledge. Jungle Ted was a master of practical jokes.
In those days there were no cubicles, and detectives' desks faced each other in the middle and faced the wall on the outside of the room. So, everyone could talk back and forth, but there was also no privacy.
The first salvo of pranks was lowering my desk chair each day before I got in the office. This took some time because these old chairs did not have a lever to raise and lower them — they were the old style that you had to screw up and down from the base. That went on for a day or two before I checked the seat daily, for height, before sitting down.
Next was a more subtle, gradual and classic prank.
The old-style black office telephones had a round earpiece and mouthpiece. Jungle Ted unscrewed the earpiece and took one layer of single ply institutional toilet paper and placed it in the earpiece over the small speaker. So I would not notice it, he took the time to color the top sheet black with a felt-tip pen.
This went on for a week or two. Ted added only one layer a day. The volume of my phone's handset diminished gradually every day.
"Anyone else having a problem hearing people on the phone?"
Straight-faced detectives, in on the joke, would say "No" or "Don't worry rookie, there is a lot of noise in the squad room but you'll get used to it."
Finally one day I am yelling into the old-style phone, kind of like you do today when someone calls you from a cellphone with a bad signal. Jungle Ted came to the rescue.
"Wellllllll let's see if we can't fix this phone." With that, the prank was revealed to uproarious laughter by the veteran gumshoes. So for the next few days I checked the earpiece and phone volume daily.
On a Friday morning, the volume was fine and I called a witness. The person said, "Hello." I identified myself and the witness again said, "Hello. Hello. Is anyone there?"
Of course I must have repeated and yelled my greeting….until I saw all the old guards laughing. Realizing I had been had again, I hung up. Jungle Ted with his huge bright grin under a tanned face strode over with a, "Welllllll, now what's wrong with your phone?"
He opened my middle desk drawer and told me the microphone of the phone should be in the mouthpiece of the phone instead of my desk drawer. He laughed and handed me the removable microphone and explained if I unscrewed the mouthpiece I could replace it.
After that, I was so paranoid I put dots of Wite-Out on both sides of the threads on both ends of the phone's handset, to detect if it had been tampered with.
Now I was not always the victim, sometimes I was a perpetrator. One night I was by myself working as the lone afternoon detective. I was caught up on my caseload and bored. As they say, "Idle hands are the devil's workshop," so I took several photos of my sergeant's desktop.
I then turned his desk 180-degrees and replaced everything on the desktop perfectly the way it had been, using the photographs as a guide. Now, however, the desk drawers and the channel for your knees under the desk were on the wrong side.
I was not there the next day to enjoy my kindly sergeant's surprise.
Sgt. "Bo" simply smiled, pointed with his often-present toothpick and said he was really amused by my ingenuity and execution. He took the joke very well…..I thought.
All the day shift detectives congratulated me on the great gag and thanked me for the laugh on their way out the door at the end of their shift and the beginning of mine.
The joke was on me. None of the other detectives got assigned new cases that day — Bo assigned them all to me! Oops I forgot, the sometimes high cost of comedy in the workplace… "He who laughs last, laughs best."
Bo made sure I was never bored again on the afternoon shift.
Lock it up, don't leave it unattended, be aware and watch out for your neighbors.
Rich Kinsey is a retired Ann Arbor police detective sergeant who now blogs about crime and safety for AnnArbor.com.