Posted on
Thu, Apr 26, 2012 : 8 a.m.
Is Congressman Mike Rogers a Chicken Little or Paul Revere when it comes to cyber attack threats?
By Tom Watkins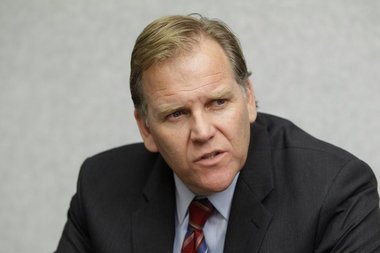 File photo | AnnArbor.com
"The sky is falling, the sky is falling" cried Chicken Little. Today, that cry remains an idiom indicating a hysterical belief that disaster is imminent.
Yet, what if the crier is right and there is pending disaster that we do not take heed of?
This is exactly the dilemma that U.S. Rep. Mike Rogers, R-Brighton, faces in his attempt to get the country to pay attention and protect ourselves against a massive cyber attack. Rogers is warning us of the potential cyber attack that could cripple our economy, wiping out our entire financial system, power and electrical grids -- the computer networks that help run our entire country's infrastructure.
Simply imagine a sci-fi movie -- complete with enemies able to unleash a computer virus so powerful that it might shut our country down. Frightening enough for you?
Rogers, chairman of the House Permanent Select Committee on Intelligence and a former FBI agent, believes in this level of devastation, currently being threatened by terrorist organizations and foreign governments. Clearly, he is in a position to know.
Rogers believes Russia, China, Iran, North Korea and Al-Qaida are improving their capabilities to attack America's vital targets in cyberspace.
Is Rogers a 21st century "Chicken Little" when he proclaims: "We are headed for a catastrophic cyber attack in this country ... exponentially, governments like China and Russia and now Iran, North Korea and others have gotten into the business of cyber espionage, developing capabilities for cyber attacks."
FBI Director Robert Mueller testified before Congress that hacking could soon replace terrorism as the FBI's primary concern. Gen. Keith Alexander, head of the military's Cyber Command, characterized the losses caused by cyber theft as "the greatest transfer of wealth in history."
Rogers is working in overdrive to pass his controversial bill, the Cyber Intelligence Sharing and Protection Act (HR-3523) that would allow the U.S. government to share with American businesses, classified information related to expected computer system attacks. His early warning system would create shields to protect our nation's cyber security interests.
Yet freedom-loving Americans are struggling with the balance between protecting our homeland and government intrusion and snooping into our private lives. They have taken to cyberspace in an attempt to stop or significantly modify his bill.
Rogers is working with these groups to provide changes that, "at least allows them to sleep at night, because I can't sleep at night over these threats."
Rainey Reitman, of the Electronic Frontier Foundation, a group established to defend our rights in this digital world says: "The language of this bill is dangerously vague, so that personal online activity -- from the mundane to the intimate -- could be implicated." She believes the bill would in essence "gut all existing privacy laws."
Rogers believes the Senate counterpart to his bill is "in a lot of trouble." Many mainstream business groups oppose the new regulatory authority it would give to the Department of Homeland Security and associated costs.
The cyber threats the congressman is alerting us to are all too real. How we balance our personal freedom and privacy with our national security is the tightrope we must navigate.
Let me assure you, though, Congressman Rogers is no "Chicken Little." Instead, he may indeed be America's 21st century "Paul Revere."
Tom Watkins is a former state school superintendent for Michigan who has over 30 years experience as a participant and observer of the policy and political process. He is a U.S./China business and educational consultant. He can be reached at: tdwatkins88@gmail.com.