Posted on
Sat, Feb 18, 2012 : 5:59 a.m.
Keep Ann Arbor's train station where it is and drop the Fuller Road site
By Vivienne Armentrout
We should keep the train station in Ann Arbor where it is and reject Fuller Road as a new site.
With change comes opportunity. The recent decision by the University of Michigan to pull out of the Fuller Road Station agreement with the City of Ann Arbor offers us a chance to reassess this location as a transit hub, especially for interurban and commuter rail. The only really solid reason for locating what was described as a multimodal train station on Fuller was the need for a U-M parking structure (see my blog post, localannarbor.wordpress.com/2011/09/02/fuller-road-station-its-all-about-parking/).
City officials, especially City Council Member
Christopher Taylor
, have assured us that long-term plans for a train station are still in place. But the Fuller Road site does not make sense for that use, considering the growth and evolution of that entire Huron River area. Instead, why not use the present Amtrak station and upgrade both the station and the site as funds become available? A gradual implementation of improvements and re-use of a currently functional station makes economic sense and is more sustainable.
Actually, Fuller Road has many disadvantages as a site. Traffic on the road is very congested partly because of the busy hospital complex, and the automobile traffic pattern is difficult and complicated. City Council has acknowledged this with a preliminary plan for a roundabout. Pedestrian and bicycle access to the designated site is poor, especially with all that traffic. Putting the additional demand on this site that a train station and transit hub would require has a potential impact on Fuller Park far beyond the loss of the actual parkland that is now serving as temporary surface parking for the UM. The Border to Border bicycle and pedestrian trail is designed to go through that immediate area, and there have been concerns raised about that conflict.
Another problem with relocating the train station to Fuller Road is the effect on the current free parking for rail passengers. Sierra Club volunteers did an informal count of cars parked in the Amtrak-owned lot on Broadway over the Christmas week holiday and found all 130 spaces occupied, as well as most of the city metered lot on Depot Street. It is difficult to imagine that building new free parking at the Fuller Road site (perhaps a structure?) would be economically feasible. Free parking is offered at most train stations in Michigan and elsewhere and eliminating this option would undercut the success of the increasingly popular Detroit-Chicago rail route and any future commuter rail service.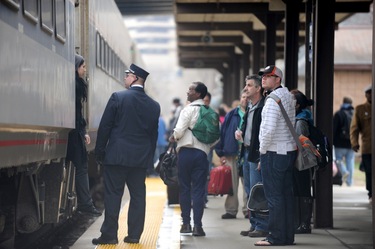 Angela J. Cesere | AnnArbor.com file photo
The current station is immediately adjacent to the Broadway Bridge. Dietrich Bergmann, a licensed civil engineer, has done a preliminary review of improvements that might be feasible for the existing Amtrak station site. One of them is improved access to Broadway from the site. With proper design, this site might have not only automobile access but pedestrian and bicycle access to 4th and 5th Avenues, which both serve as a gateway to Kerrytown and downtown Ann Arbor. Existing pedestrian walkways across the bridge itself would take foot traffic into the Broadway/Maiden Lane commercial area. This would also permit rail passengers to use buses on AATA Route 2C for access to the Plymouth Road area as well as downtown.
Improvement and expansion at the current site could support economic revitalization as envisioned by the RiverUp project, and tie in to the DTE site, which is slated for remediation. The Fuller Road location is relatively isolated.
Of course, the City has already invested nearly a million dollars in planning for the Fuller Road site (not counting the sewer work authorized in support of the U-M project). But those plans are obsolete in any case now that it is not to be a parking structure for the U-M. It is a foolish economy to continue spending on new designs and reworks for the site merely to justify past expenditures. We now have an opportunity to refocus, throw open the design to the community, perhaps even hold a design competition. Let's take a deep breath and think it over.
Vivienne Armentrout has been active in local issues and politics since arriving in Ann Arbor in 1986. She served for 8 years as a Washtenaw County commissioner and has worked as a freelance editor and writer. You may read her blog, Local In Ann Arbor, at localannarbor.wordpress.com.