EDITORIAL:

Keep the Ann Arbor Summer Festival strong through your attendance and financial support

Posted on Sun, Jun 10, 2012 : 5:58 a.m.
If it's summertime in Ann Arbor, the living is easy and the choices for enjoyment are plenty. For the next three weeks, that will be particularly true with the return of one of this community's beloved events, the Ann Arbor Summer Festival.
Ann Arborites have always embraced the Summer Festival, and it's more important than ever that they continue to. In these difficult economic times, all arts organizations and non-profits are feeling the strain. Only through their dedication and our support - both in terms of attendance and financial donations - can they continue the offerings that add so much to our quality of life.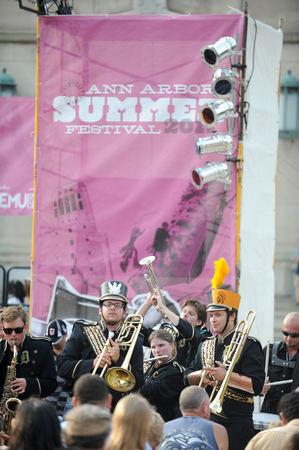 Angela J. Cesere | AnnArbor.com
What has always made the Summer Festival remarkable is the variety of entertainment it offers, the way it brings the community together socially, and the duration of the event. You would be hard-pressed to find a festival anywhere else in the country featuring live entertainment that runs over a span of 24 days.
This year's festival begins this Friday and continues through July 8. As usual, it combines big-name entertainment on the main stage - including Al Green, Rufus Wainwright and Pilobolus - with popular local acts on the Top of the Park stage and, of course, outdoor movies for the late-night crowd.
Popular as the Summer Festival is, it has not been immune to the economic difficulties that have squeezed other events and organizations. Under the leadership of Executive Director Robb Woulfe, it has navigated those challenges well, making fiscally smart changes to the event without damaging its essential character.
Recently, one of its successes has been to feature a new attraction each year. This year, it will be Erth's Dinosaur Petting Zoo, a puppet exhibition created by an Australian theater and visual arts company. Performances of this unique family attraction will be held on the front lawn of the Power Center, a short walk from the Top of the Park site, from June 29 through July 1, with two shows per day.
While you are at the Summer Festival this year, we also invite you to stop by the new Roots Lounge, presented by AnnArbor.com. The lounge will be located on the Ingalls Mall under a grove of trees next to a stage that features "roots'' music.
With free public WiFi available through AnnArbor.com and 20/20 Communications, the lounge is a place where you can post, share, tweet, read or just relax, listen and enjoy. On Tuesdays, have your photo taken by an AnnArbor.com photojournalist for an online gallery. On Thursday evenings, we'll offer Trivia Nights, presented by The Arena Bar. On Friday and Saturday evenings come visit with ann arbor's 107one personalities as they host the performances on The Grove stage. Our partner, WEMU, will also be hanging out in The Roots Lounge, so be sure to stop by and see what they have in store.
These kinds of partnerships are what continue to help the Summer Festival thrive. Equally important are all of the volunteer efforts that go into the event, and the financial support of local businesses and individuals.
This is the 29th year of the Summer Festival, which is a remarkable run. As a community, we've been able to enjoy this event for nearly three decades, and we must never take it for granted. It is a true townie experience, where you can see top-quality entertainment, listen to local bands that you've followed over the years, and see and greet your friends and neighbors in a mellow, familiar setting.
We encourage you to help keep this local tradition strong by buying tickets to paid events, by making donations at free venues to the extent you can afford, and by encouraging people you know to be part of the experience. Summer in Ann Arbor doesn't get any better than this.
(This editorial was published in today's newspaper and reflects the opinion of the Editorial Board at AnnArbor.com.)