Posted on
Sun, Apr 1, 2012 : 5:58 a.m.
Latest economic report welcome news for Ann Arbor area; Film Festival turns 50
By Tony Dearing
Musings on the news of the past week:
If you're weary of the prolonged economic slump that we've been suffering through, news came out this past week that could leave you absolutely giddy.
According to an economic forecast commissioned by AnnArbor.com, our local economy is headed for a period of economic job growth that we haven't seen since the dizzying days of the mid- and late-1990s.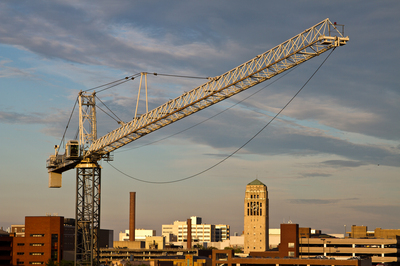 Steve Pepple | AnnArbor.com
The forecast, by University of Michigan economists
George Fulton
and
Don Grimes
, calls for Washtenaw County to
add more than 11,000 jobs
over the next three years. That's a pretty healthy gain, particularly coming on top of the 8,500 jobs that the county grew over the course of last year and the year before.
Fulton and Grimes project that the stretch of prolonged job growth we're seeing - which began in 2009 and is expected to continue through 2014 - will compare favorably with local job gains from 1995 through 2000, when the local economy flourished. In fact, they project that by the end of next year, the county will have more jobs than it did at its previous time of peak employment in 2002.
Even more encouraging is their finding that the job growth so far since 2009 has been heavily in high-wage occupations, and they expect that trend to continue. The perception that Michigan is only creating burger-flipping jobs is not true - at least not here in Washtenaw County.
In an interview last week, Fulton told AnnArbor.com that we're moving well into "a pretty good recovery,'' although he admitted that the speed of it caught him off-guard. "I wasn't surprised at all by the recovery,'' he said, "but I was surprised by the pace of it.''
Yes, that is surprising - and incredibly welcome - news.
***
The comedienne Lucille Ball once quipped that the secret to staying young is to lie about your age. But the Ann Arbor Film Festival has no need to fib. It has been unabashedly celebrating its 50th birthday over the past week, wrapping up today with a full schedule that includes the screening of awarded films and an after-party.
George Manupelli, who founded the event in 1963, later told an interviewer that "art is always at your fingertips. You just have to stop and think a bit and it's just there.'' For Ann Arborites, the festival has been at our fingertips for half a century now, and it has given us plenty to think about.
We congratulate organizers for the many ground-breaking films that they have brought to Ann Arbor over the years, and for successfully sustaining what has been one of our city's culturally defining events. Over the years, Ann Arbor Film Festival has featured the early work of such notables as Andy Warhol, Yoko Ono, Lawrence Kasdan and George Lucas.
If you're feeling nostalgic, got back at take a look at the very first program, which included a screening of "Woton's Wake'' by Brian DePalma. And yet, while some emerging filmmakers have gone one to great commercial success, the essence of the festival has always been to showcase truly avant-garde artists like Bruce Baillie, who is being celebrated as part of today's program.
The remarkable thing about the festival is that is has come such a long way without ever straying from its roots. It continues to be showcase for all cinematic forms, including experimental films, animation, documentaries, narratives and performance-based works. This year's festival at the Michigan Theater has featured more than 180 films representing nearly two dozen countries, while also celebrating its rich history by dipping generously into its archives to screen past gems as well.
These days, the Ann Arbor Film Festival proudly bills itself as the "longest-running independent and experimental film festival in North America.'' That is something the community can take pride in as well. May the next 50 years be every bit as invigorating and inventive.
(These editorials were published in today's newspaper and represent the opinion of the Editorial Board at AnnArbor.com.)