Posted on
Thu, May 23, 2013 : 5:58 a.m.
Michigan has 11,000 inland lakes - and its residents need to be able to swim
By Rich Kinsey
I have spent most every summer of my life on or near a lake. I love the water, but I have always had a very deep respect for it as well. It is with that respect I offer advice and safety tips.
First and foremost — learn to swim! Two-thirds of our planet is covered by water. In Michigan we have 11,000 inland lakes, more shoreline beaches than any other state in the continental United States, and our two "pleasant peninsulas" are surrounded by the Great Lakes.
It is said that you can not travel five miles in a straight-line in Michigan without running into a body of water. Therefore even it you are careful, chances are at some point in your life you will fall into the water— so learn to swim. Parents, teach your children how to swim early in their lives.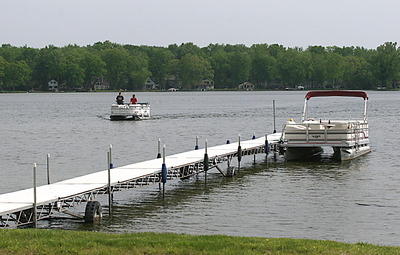 File photo
It's never too late in life to learn and it's incredible how early children can be taught to swim. The American Red Cross, the YMCA, Ann Arbor Parks and Recreation and other health clubs and private facilities provide swimming lessons for the young and old alike. If you are embarrassed by your age, private lessons can be procured, but please, I can't say it enough, learn to swim.
Whether you can swim or not, Personal Flotation Devices, or PFDs, save lives. PFDs or life jackets, buoyancy vest and life preservers are a must-have around the water. Whether we are talking about pools, ponds, lakes, rivers, beaches or oceans PFDs should be available — especially when children are around the water or when boating, canoeing, sailing, fishing or kayaking take us away from shore.
According to the United States Coast Guard, 90 percent of those who drown, in boating and water accidents, would have survived if they had been wearing a PFD. PFD's assist those who can not swim to keep their head above the water. For those who can swim PFD's provide precious time for a person to be rescued.
My youngest son, who is a mariner and currently "up-bound" on Lake Huron on a 770-foot iron ore carrier, taught me the rule of thumb for surviving a fall into cold water. Great Lakes mariners call it the "1-10-1 Rule" which he told me meant: "You have one minute to control your breathing, 10 minutes that your body can actually function and swim and one hour to survive if you are supported by a PFD."
Not to be outdone, I gave my son some interesting and perhaps lifesaving advice for his vocation. I learned in a death investigation seminar that clothing and autopsy evidence of recovered drown sailors indicated almost half of them fell or were swept overboard while trying to urinate "over the rail."
In my own experience, I recall two individuals who drown in the Huron River after sliding down slick riverbanks and one who fell off the third floor roof of a building on North Main Street who appeared to have died attending the same call of nature. Using a bathroom — or for those nautically inclined "the head" — is a much safer and socially acceptable alternative
Boating season is just getting underway so it is a good time to review some of the laws about PFD's. It also is a good time to remember that this is a dangerous time of the year to fall overboard because although the air temperatures are in the 70s or soon, the 80s, water temperatures are in the 50s. Water robs a human body of heat up to 32 times faster than the air, therefore falling overboard, even in an inland lake right now, can be life-threatening even for strong swimmers.
According to the Michigan Department of Natural Resources, Coast Guard Approved PFDs come in four types.
A Type I PFD provides the most protection and is an off-shore life jacket. These are the best and can turn and maintain most unconscious victims faces out of the water even in choppy water.
Type II is a near-shore buoyancy vest, which can turn and hold some unconscious person's faces out of the water. These are the common orange "horse collar" life jackets.
Type III PFD's are floatation aids and are designed for conscious persons. These also include most ski vests.
Type IV PFD's are "throwables", such as life-rings or buoyant seat cushions. Approved and allowable PFD's do not include plastic toys like water wings, pool noodles or inner tubes.
According to the DNR If you are on a boat less than 16 feet long, you must have a Type I, II, III or IV U.S. Coast Guard Approved PFD for every person on board the vessel. For boats larger than 16 feet long — excluding canoes — each person on board must have a Type I, II or III PFD available and one extra Type IV PFD or throwable for rescue. Children less than 6 years old must be wearing a Type I or II PFD if riding on the open deck of a boat.
From personal experience with small children on boats, I suggest a PFD with the easy-to-grab handle. This handle on the life jacket makes your child really easy to scoop out of the water when —not if— they fall in and the crotch strap keeps them in the life jacket as you are fishing them out. Careful mom and dad, this can become a fun "game" for toddlers who like the water and will jump in on purpose … like my sons.
Michigan affords us some great opportunities in our water wonderland, so please be safe and wear PFD's on the water — especially if you can't swim.
Lock it up, don't leave it unattended, be aware and watch out for your neighbors.
Rich Kinsey is a retired Ann Arbor police detective sergeant who now blogs about crime and safety for AnnArbor.com.