Posted on
Sun, Mar 10, 2013 : 8 a.m.
Maturity provides more insight and nostalgia when looking at past choices
By Robert Faber
One of the fringe changes affecting most of us as we age is the additional time we spend on reflection and introspection, anguishing over our many missed opportunities, looking back with regret at the poet's "road not taken."
The trouble, of course, is that accurate measurements of success or failure are not evident until long after the fact, long after the opportunity for repair has passed. As loving mates and parents, our goals are all pretty much the same - to do everything we can for them now and in their futures - but the continuing unease is in trying to determine how that "all we can do" obligation is defined and measured.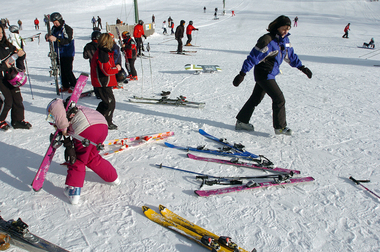 AnnArbor.com file photo
As one example of many, providing a solid financial base for our dependents is a good way to ease the uncertainties of their future, but that takes a talent not readily available to most of us. Looking back at my own opportunities, for instance, I should have bought some of those cheap lots in Aspen before the ski-craze drove them out of sight, or I should have gambled on one of those little firms with the funny names like Google or Yahoo, but that assumes more insight or luck than might attach to most of us.
But while such an approach - if it works - provides financial security, there are other, greater needs that must yet be attended and that is where the insights of age may help bring us back to the fundamentals. My wife's father, for example, once told me that the only thing of real value you can leave your children are memories—an observation that grows increasingly profound with the years. Those early ski trips with our children, for example, are an essential and irreplaceable part of our lives. And the family's long summertime weekends visiting the Shakespeare Festival in Stratford, Canada, attending the theater in the evening then swimming in the flooded quarry of a nearby town the next day, are magical moments now irreplaceable. Even the car-trips east to visit grandparents - despite the kids' bickering and complaints of boredom - still shine as honored pieces of the past.
A bit less clear is what advice would the more mature me now give my kids and I guess the answer is - very little. By the time they would have been old enough to ask the right question or understand my probably contrived response, their inherent nature would have better advised them what path to take.
And that is one of the problems of aged retrospection: revisiting the early days of our past and reevaluating its many moments from the vantage point of our maturity gives us more nostalgia than wisdom and better serves our fantasies than our family. Because our earlier days were so filled with the necessities of guiding and providing and surviving, we may overemphasize some of the special parent-child moments that may have been lost in the process, expanding a guilt we may or may not deserve, but prefer to forget.
Meanwhile, wisdom may not come with age, but hindsight does. As antiquated survivors, we may not fully understand where we had gone wrong as parents, or even if we had gone wrong, but decades later, evaluating a distant past can be depressing and unproductive. After all these many decades, some details of days long gone are better forgotten or ignored or redesigned. At some point, after all, it is just too late to make a difference. Much better, instead, to concentrate and build on what still remains.
And maybe that is why God invented grandchildren.
Robert Faber has been a resident of Ann Arbor since 1954. He and his wife, Eunice, owned a fabric store and later a travel agency. He served a couple of terms on the Ann Arbor City Council. He may be reached at rgfaber@comcast.net.