Posted on
Wed, Jan 23, 2013 : 3:30 p.m.
Merger of fire departments would offer distinct advantages to city
By Letters to the Editor
I read with interest your story about the possible consolidation of Ann Arbor and Ann Arbor Township Fire Services.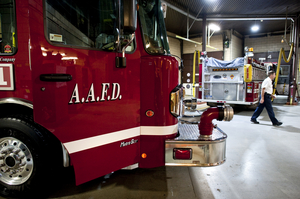 AnnArbor.com file photo
Regardless of the ultimate decision, Ann Arbor officials and citizens should respect the dedication of the retiring AA Township Fire Chief Rick Ericson as a major reason a merger is a distinct advantage to the city.
Upon visiting the efficiently run department, I learned that not one piece of their state-of-the-art fire equipment was paid with taxpayer dollars. Ericson and the township negotiated the erection of a cell tower adjacent to the station and the annual fee it generates save the Township taxpayers from the equipment expense.
When Ericson discovered a piece of equipment (jaws of life) was no longer effective because of the increased strength of the steel in automobiles, the Township purchased the new technology of a stronger apparatus. Other departments followed their lead.
But, I was most impressed with the expertise and courtesy of his staff and that chief Ericson leaves his desk periodically to visit the citizens of the township. The chief becomes better acquainted with Township residents and to gauge their impressions of the fire service. How many government officials initiate that level of citizen contact?
Chief Ericson seeks no personal accolades but in my opinion, he deserves government, citizen and media appreciation.
Dale Leslie
Saline