Posted on
Sun, Feb 12, 2012 : 5:59 a.m.
Michigan needs to ban the use of hand-held phones while driving
By Tony Dearing
There is a health epidemic in America that claims an estimated 1,000 lives every year and sends thousands more to the hospital. Yet the cure is readily available.
When you're driving in the your car, stay off your cell phone. It's that simple.
People know that. They recognize the risks of using cell phones while driving, but they continue to do it anyway. This form of distracted driving has become so pervasive and dangerous that it's time to take action against it, both socially and legislatively.
We call on Michigan to join others states that have banned the use of hand-held phones while driving, and we think this action should be coupled with an awareness campaign much like those that urge people to use seat belts or not to drink and drive. Such efforts have unquestionably made our roads safer; we now need the same approach to get people of their phones when they're behind the wheel.
If you have any doubts about the dangers of using cell phones while driving, we hope you have read our recent series of stories on distracted driving. This reporting project, done in conjunction with our seven sister newspapers in Michigan, has offered a grisly, distressing account of the human toll from accidents caused by distracted driving.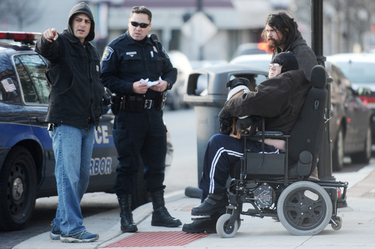 Melanie Maxwell I AnnArbor.com
We understand that cell phone use is only one form of distracted driving, but it is a particularly prevalent one. The reality is that someone talking on a cell phone in the car is four times as likely to end up in an accident that results in people being hospitalized.
The problem has become so serious that many states, including Michigan, have banned the practice of texting while driving. But that's clearly not enough. Last December, the National Transportation Safety Board called for a total ban on use of cell phones while driving. "No call, no text, no update is worth a human life,'' NTSB Chairman Deborah Hersman said at the time. "It's time for all of us to stand up for safety by turning off electronic devices when driving.''
Americans shouldn't have to be told that. They know that cell phones and cars can be a deadly mix. In one survey by the AAA Foundation for Traffic Safety, 88 percent of people who responded agreed that using a cell phone while driving is dangerous, and yet two-thirds said they had talked on a cell phone while driving within the past 30 days. That behavior isn't going to change unless we legislative it and stigmatize it.
Right now, nine states ban the use of hand-held cell phones. Michigan should join them. For some people, the existence of the law could be all the nudge they need to change their behavior. But enforcing such laws is difficult, and some people seem so addicted to their phone that they'll flout the law anyway. That's why legislation should be accompanied by an awareness effort similar to the "You Drink, You Drive, You Lose'' campaign that targets drinking and driving.
Actually, the analogy between the two issues is quite apt. Some studies have concluded that cell phone use in a car can be as dangerous, or even more dangerous, than driving drunk. Society used to have a more lenient attitude toward drinking and driving, but that's changed, and we need a similar change in attitude toward the use of cell phones while driving.
The next time you're in a car and feel the need to talk on your cell phone, ask yourself: is this call so important that it's worth risking my life — or someone else's? The answer is sure to be no. So do yourself and other motorists a favor, and hang up the phone. You might not be breaking the law — yet — but you'll be a making our roads safer for you and the motorists you're sharing it with.
(This editorial was published in today's newspaper and reflects the opinion of the Editorial Board at AnnArbor.com.)