Posted on
Thu, Feb 28, 2013 : 5:58 a.m.
Police work proves to be perfect fit for a pair of old friends
By Rich Kinsey
My best friend and I met at Slauson in Mr. (Ben) Fairman's English class about 40 years ago. Since then, he has been like the brother I never had. His family is my second family, and a few weeks ago he called to thank me and give me some really good news.
I enjoyed the first day of a new class with him. The teacher called roll and it went like this:
"William Sands?"
"Here"
"What do you go by? William, Will or Bill?"
"Tom."
"Tom?" The teacher would look irritated as if this young wise guy was trying to pull something. The teacher would argue, "It says here your name is William Sands. Where do you get Tom?"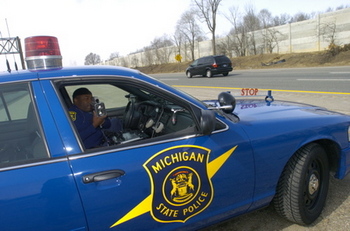 "My middle name is Thomas and I go by Tom."
"Okay well I'll make a note here…..T-o-m." The teacher wanted to check somewhere else later because the class roster said "William," rules are rules and lists provided by the school district must be accurate. What was this innocent looking blonde-haired, blue-eyed smart alec up to?
To make matters worse, I call him "Willie" and just to add confusion for the poor teacher, I made sure to ask him for something. "Hey Willie, you got an extra pencil?"
"Yeah sure buddy, here you go." The teacher would do a double-take and the kids that knew us chuckled.
By the time we met, I being the product of the television generation, knew exactly what I wanted to be when I grew up. I loved police shows like Adam-12, Dragnet and Police Story — I wanted to be a cop. I still tell the academy classes I teach, "This is a great job! After all they don't make action movies or television shows about certified public accountants do they?"
Tom was unsure what he wanted to do, but one thing was certain — Tom is smart and a hard worker. He has had a job constantly since he was 14. After school Tom cooked at the old Jolly Tiger restaurant and A & W on Stadium. He was parts man at Nicholson's Enterprises.
When Tom graduated high school he moved to Arizona to live near his brother Bob, who was stationed there in the Air Force. Tom spent about a year as an assistant greens keeper at a golf course in Arizona before returning to Michigan to attend Central Michigan University — where he met his future wife Sally.
Tom was the wild one in our friendship — I was more of a nerdy worrier. Whenever he and I got in trouble, however adults would look at the black-haired sinister looking devil — me — as the instigator. Tom's blonde hair, blue eyes and All-American features — that have not changed in 30 years — made him look constantly innocent.
During college, Tom and I worked summers at O & W Incorporated, which is a beer distributor where my dad worked for many years. We were warehousemen and helpers on beer trucks and though the work was hard, we had a ball.
The summer jobs became full-time when Tom quit school for a time and when I graduated and there were few police jobs in 1981. I got hired at the Ann Arbor Police Department in 1982 and I was off on my police adventure.
Tom stayed in the wholesale beer and wine business. A few years passed and I convinced Tom, who was looking for a new career direction, to ride along with me on patrol.
Tom happened to hit a really active night on patrol. I arrested a guy on warrants right out of the gate, we got to run signals on several emergency calls, and then we spotted a guy turfing — what we refer to driving on the grass as — around Tappan Middle School. We got into a mini-chase with that guy, because engaging in vehicle pursuits with an observer in the car was forbidden by department policy.
The driver landed his car in someone's driveway and got out and ran. The driver must have been injured or lame, because I actually caught him in a foot pursuit.
I collared the Tappan Turfer and Tom was excited. His comment after the successful capture: "Dude you actually get paid for this? I'm in, I have got to do this!"
Tom immediately applied to the Ann Arbor Police Department and the Michigan State Police. He got accepted by both departments and originally wanted to work in Ann Arbor, but City Council was slow adopting a budget and Tom was three days into the Michigan State Police (Training) Academy when Ann Arbor finally called to offer him the position.
The rest is history. Tom thrived in the State Police.
Tom has trooped out of Grand Haven, been an undercover officer on the Gaylord Team, a Detective Sergeant in Technical Services in Lansing, a post commander in Jackson, the State Fire Marshal, and a post commander in Brighton.
Several years ago when he was applying for a captain's job in charge of Emergency Management and Homeland Security for the State Police, Tom and I were on a double date with our wives at the Dam Site Inn in Hell, Mich. He recalled when he and several troopers were called to Hell on June 6, 2006 for a celebration of 6/6/6 that turned ugly.
Revelers were blocking the highway in front of the Dam Site Inn and starting to burn furniture and other debris for a bonfire. Tom said the call was interesting, but he and three or four troopers were able to calm the crowd.
I told Tom that night, "Who can compete with you Willie? You quelled a riot in Hell with a handful of troopers! Who else in the world can claim that?"
Tom got that promotion and since then, I have not seen him without his data phone. I drive up to the U.P. for deer camp now, because Tom is constantly working that phone all the way north. Once we get in camp, the phone goes away — but the troopers at the Marquette State Police Post know how to find him in the woods.
So a few weeks ago Tom called to thank me for helping him catch the cop bug. He told me he had been promoted to Lieutenant Colonel in charge of the Field Services Bureau of the State Police.
I could not be happier for my best friend and for the other state troopers I call my friends. The troopers and detectives of MSP could not work with a more capable, ethical, hard working, down to earth, unflappable, common sense-driven leader.
Congratulations Lieutenant Colonel William T. "Tom" Sands — I am proud of you Willie!
Lock it up, don't leave it unattended, be aware and watch out for your neighbors.
Rich Kinsey is a retired Ann Arbor police detective sergeant who writes about crime and safety for AnnArbor.com.