Posted on
Mon, May 13, 2013 : 6 p.m.
Minimizing the tactics, emphasizing the goals vital for future of country
By Robert Faber
Despite the limited evidence of principles directing the game of Politics, it remains the only acceptable route to democratic governance, so - whatever its problems - we have to make it work. Unfortunately, with so many of its players being courted and supported by goals and a constituency forever focussed on the next election, the system is now more the tactics of the process than its humanitarian goals - a serious blow to the higher moral standards we had once believed were ours.
As a nation whose founding purpose was "to form a more perfect Union" and whose pledge was "to promote the general Welfare," there is a rich humanitarian tradition attached to our existence - one that is now at odds with much of our current performance. That original commitment to serve the needy of our society, for example, is a tribute to the essence of who we are and have been since our founding, but the likelihood of carrying those responsibilities forward into continuing generations is increasingly sidelined by the tactics chosen for the task.
There is, of course, the complaint of those less needy (in effect, those who would foot the bill) who insist that we simply cannot afford the costs of supporting those who have not the means to do for themselves. Because they see as our first priority the restoration of our country's economy, they advocate holding off subsidizing many of our national aid programs until the economy improves- a commendable goal as long as the cost of that economic repair is in keeping with the principles that define us. Such an approach in regard to medical treatment, for example, would make more sense if we could also hold off the damaging effects of untreated health problems for that same period. Unfortunately, the damages to the human health system that may result from inattention cannot always be corrected after their onset - which makes the tactic of delay very dangerous.
It is true that a generous nation can do more good for its people when its economy is strong, but the projects themselves must not be sacrificed to that cause. One of the tactics now being pursued in the name of national well-being, for example, is to improve the fiscal health of those industries whose success will likely result in increased employment - an unquestionably commendable goal. Nevertheless, if pursued too aggressively and with a concentration too narrowly focused on the needs and demands of industry, the implementation of such an approach could be very dangerous for our larger society.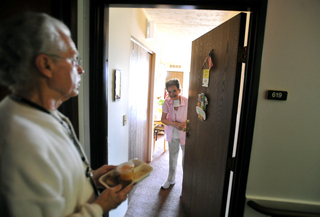 File Photo
For example, in order to pay for the project, Meals On Wheels, a federal program providing needed nutrients to indigent seniors since 1972, is facing budget cuts that will eliminate up to nineteen million meals from their program.
And at the other end of the age scale, funds to keep the aviation industry working efficiently will be paid by budget cuts for Head Start, causing 70,000 children to lose access to that program - during this most critical period in their short lives.
We all applaud building a stronger economy, but the core humanitarian projects dependent on that economy must not be sacrificed to that cause. Federally financed programs providing valuable assistance to the needy are obligations to the people of the nation no less valid than reducing the burdens of taxation may be for those who pay such taxes. However disconnected the privileged and the needy are from each other, the nation - with all its benefits and all its problems - belongs to all its people.
In short, our primary focus should be on the target - not the tactics.
Robert Faber has been a resident of Ann Arbor since 1954. He previously owned a fabric store and later a travel agency. He served a couple of terms on the Ann Arbor City Council. His wife of more than 60 years, Eunice, died March 20. He may be reached at rgfaber@comcast.net.