Posted on
Fri, Aug 2, 2013 : 9:42 a.m.
Meat eating vs. veganism misses the big picture - we all end lives to sustain our own
By Ruth Ehman
I received an email recently from a University of Michigan student who is writing an essay in defense of eating meat. Our contact arose from this student deciding that, if he is going to eat meat, it is his responsibility to have a thorough understanding of the realities of slaughter and butchering.
This gave me pause. And while I admire this young man for his personal conviction, I don't necessarily believe an individual need confront the actual process of arriving at a pound of ground beef before eating that burger any more than I believe we must all assemble an engine prior to driving a car.
I do believe it is important to acknowledge that if you are eating meat then something living, breathing, thinking, feeling — died. And it's the breathing, thinking, feeling part that is most important. This is where the ethics of meat eating comes in.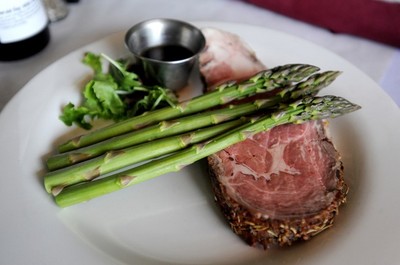 With today's heightened awareness surrounding the horrors of
factory farming
and feedlots, I do not need to discourse at length on the difference between meat raised purely as a commodity and meat raised with respect and dignity. I submit anyone in this day and age, and this corner of the world, who ignores the difference by supporting the CAFOs does so out of indifference that far outweighs any claim to ignorance.
Perhaps you take refuge in vegetarianism or veganism. Perhaps you believe by not eating meat you are abstaining from the taking of a sentient life to sustain your life. Differentiating between the morals of eating a steak compared to a tomato is hard to argue if the grounds for logic center on the right or wrong of deliberately killing a fellow creature to meet nutritional needs when these needs can be met without eating meat, especially if dairy and eggs are part of the diet.
But what so many remain truly ignorant of is the collateral loss of life that goes hand in hand with any agricultural endeavor. A field of standing hay is home to nesting birds, meadow mice and voles, snakes and rabbits. As the field is mowed to make fodder for livestock, including dairy cows, what do you suppose happens to these creature?
Plowing the earth to make way for corn, soybeans, wheat etc. plays similar havoc with the myriad creatures who live in these fields. Running combines to harvest these crops results in untold loss of life. Displacement and habitat loss spells doom for many animals if the machinery itself doesn't outright kill them.
And of course pesticides applied to crops are put on to kill bugs; "bad" ones and "good" ones alike. These substances are also deadly to birds, reptiles, amphibians and mammals.
What also isn't widely known is that chemical fertilizers have toxic effects on many living creatures, especially those living in the lakes, streams, rivers and ponds adjacent our farm fields. And this all happens whether these crops are harvested to feed pigs and chickens or just make a batch of granola or some tofu burgers.
Sustainable, organic farming practices go a long way towards mitigating damage to life and environment by eschewing chemicals. But the fact remains that unless you're out there planting one seed at a time by hand moving the worms out of the way as you go, you are ending life to sustain yours.
Yes there are order of magnitude arguments, and this brings me full circle to my challenge to dispel ignorance, abandon indifference, and fully acquaint yourself with the reality of sustenance, which is that nothing on Earth lives without something else dying. Then we can involve theology, arrogance, and botany to continue the conversation!
Ruth Ehman has been farming her 53 acres north of Dexter for 25 years. Recently retired from a "real job" she now makes her living producing "real food" including operating a dairy, and teaching others skills conducive to a small, diverse family farm lifestyle. Contact her at firesignfamilyfarm.com or ruthehman@live.com