Posted on
Sun, May 13, 2012 : 5:59 a.m.
Mother's Day is really about the memories that Moms create
By Tom Watkins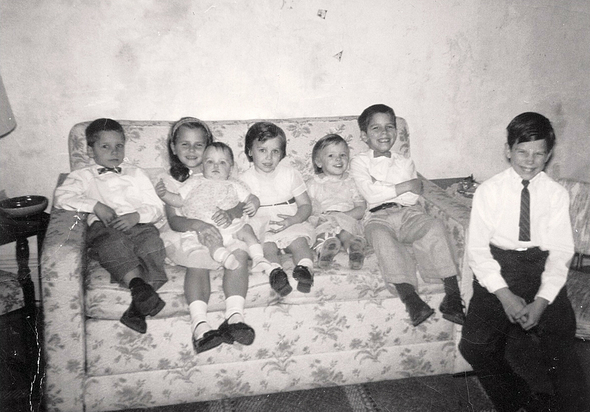 All of us have mothers. Some may resemble Harriet, from the 1960s TV sitcom, "
The Adventures of Ozzie and Harriet
." In more modern times, likely we can relate more to Sharon, Ozzy Osbourne's
wife
.
Regardless of where your mom fits on the motherly spectrum, most of us will be out there making cash registers hum with the nearly $20 billion spent on food, jewelry, cards, and other gifts showering our moms with "love" on Mother's Day.
Some moms might still be raising young children and may receive cute cards, hand-painted for them or perhaps breakfast in bed. Others are adult children raising children of their own. Regardless of how old you are, moms remain special and deserve to be treated as such each day of the year.
Many of us have lost our moms, so "Mother's Day" conjures up memories that are sweet, funny, and may make you laugh or cry.
My mom left this earth a few years ago -- a smoker, she succumbed to lung disease.
I shared my mom with six other siblings. Given what the seven of us put her through, I am sure she is in the VIP section of Heaven.
My mom was special - let's just say she was neither Harriet or June Cleaver from those early '60s sitcoms. She worked both at home raising us, and outside of the home, bringing home a paycheck to help support us.
She attended all our sporting events and would leave a pie tin with our dinner warming in the oven (these were pre- microwave days) when we arrived home after football, baseball, majorette, basketball, or boxing practice.
Did I say my mom is special? She was and still is in my heart. There simply isn't anyone more special who occupies that special place reserved in your heart for your mom.
My mom had a wicked grip that was hard to pry yourself from when you were misbehaving. But she had an equally strong sense of humor.
As it turns out, the year I was born my parents won a new car on a 50-cent church raffle ticket. This was a big deal in 1953 with five mouths to feed on a post-War II salary.
Growing up, my brothers and sisters reminded me: "One good thing happened to the family the year I was born." They were referring to the '53 Ford with great laughter, not my birth.
When my mom was lying on her deathbed I jokingly asked her, "Mom, I just got to know, the year I was born, the one good thing that happened, was it me or the car?" I can still see my mom's face light up, a smile came over her face and with a twinkle in her eye, she laughingly said, "Do you really want me to tell ya?"
We all laughed as I said, "Naw, mom, take it with you, I will assume it was ME."
She was laughing through her pain and replied, "Fine son, if that makes you happy."
So Mother's Day is not about store-bought gifts or dinners out, although moms do deserve all the joy you can shower on them. Instead, to me, Mother's Day is about memories that moms helped create and the foundation upon which we have built our lives.
For all the moms out there - THANK YOU for having that soft shoulder to cry on and for being the pillar of strength we relied on.
To Dorothy "Pat" Watkins, my mom, I love and miss you so much. I know it was me, not the Ford -- right Mom? Your smile and laughter told me so.
Oh - and Happy Mother's Day to moms everywhere.
Tom Watkins Jr. is a consultant and a freelance writer who contributes to these pages on a regular basis. He is a proud son of dearly departed Pat Watkins. He can be reached at tdwatkins88@gmail.com.