Posted on
Thu, May 9, 2013 : 5:58 a.m.
Memorials honor police officers who have lost their lives
By Rich Kinsey
West Bloomfield police Officer Patrick J. O'Rourke had reached the end of his shift on Sept. 9, 2012, but decided to assist officers responding to a shots fired complaint. The truth be told, a verified shots fired call is a "hot" call and any officer available is going to help their brothers and sisters in blue to bring that kind of call to a safe conclusion. There is usually safety in numbers — not that night.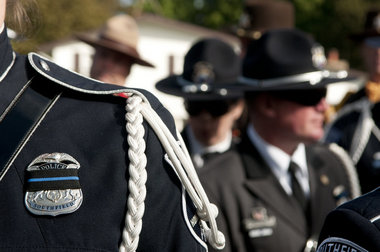 Ryan Garza | MLive
Upon arrival at the scene, family members told the officers they had called because they were worried about their loved one who they believed was suicidal. Officers headed to where the man was located inside the house and knocked on the door of the room he was in. The officers were met with rifle fire that easily penetrated the wall and door.
While trying to make contact with that despondent man, to try to save his life, Officer O'Rourke lost his own life. Officer O'Rourke sustained a fatal gunshot wound in the neck. O'Rourke was 39 years old, a 12-year veteran of the West Bloomfield Police Department and left behind a wife and four young children.
Officer O'Rourke was the first officer of the West Bloomfield Police Department killed in the line of duty. He was the only Michigan police officer killed in 2012 but joins 563 other Michigan officers who have made the ultimate sacrifice over the years. Officer O'Rourke was one of 120 law enforcement officers who died in the line of duty in the United States during 2012, according to the Officer Down Memorial Page.
Have you ever seen a police officer's badge draped with a black or a black and blue striped ribbon? That is a police officer's badge of mourning. It may mean several things, but it always means there has been a death in the law enforcement community.
Either an active officer on that department has died whether in the line of duty or not — or — a Michigan police officer has been killed in the line of duty. The badge of mourning is properly worn until the fallen officer has been laid to rest.
Another tradition in some police departments is placing a blue light in a front window of the police station. The timing of the blue light coincides with the traditions as the badge of mourning. It is lit from the time of an officer's death until their funeral.
I have seen citizens come in to police stations with the lone blue light and approach the front desk to ask about it, when they look at it closer and find the photograph of a police officer under the light with the officer's name and either "Rest In Peace" or "End of Watch" and the date of death. The citizen then stops, looks at the light and sheepishly either nods at the desk officer or says something like, "I'm sorry for your loss."
Behind the scenes when a Michigan police officer dies, officers pass a hat during briefing or place an envelope for donations on a bulletin board for officers to donate to the family of the officer who died. Similar collections are taken up for officers in peril with debilitating injuries or severe illness. I do not recall many months that went by at the Ann Arbor Police Department where an envelope was not on the board for some officer or their family who needed assistance somewhere in the area.
Those donations envelopes were usually full of cash. I do not remember ever seeing such envelopes at non-police jobs I have held, although I am sure firefighters and military personnel probably fill similar envelopes for families in need.
Next week you may see badges of mourning and blue lights in police stations, but hopefully it will not be for an officer who fell during the week but for those who have gone in the past.
May 15 is National Peace Officer's Memorial Day and next week is National Police Week. In 1962 President Kennedy and Congress established these two observances, to honor the men and women of law enforcement, like Officer O'Rourke, who lost their lives in the line of duty while protecting us.
In Washtenaw County a ceremony commemorating National Peace Officer's Memorial Day will take place at 10 a.m. May 15 at the Washtenaw 100 Club Memorial Park on Michigan Avenue at Ballard in Ypsilanti. The Eastern Michigan University Department of Public Safety is the local sponsor for this year's observance.
Next week, please take a moment to think and perhaps even say a prayer for the men and women of law enforcement. Reflect on the fact that every moment, of every day that you draw breath, there are those who have probably never met you, but have sworn a solemn oath to protect you and perhaps even lay down lives to keep you safe.
In Michigan, the state motto "Tuebor" meaning "we defend" is found on the badge placed over each officer's heart. Next week, please remember the 564 brave souls who have given their lives to keep that promise and fulfill that oath.
If you are so moved, take the time to send a card of appreciation to your local police department, join the Washtenaw 100 Club (http://washtenaw100.org/index.asp), make a donation to the Thin Blue Line of Michigan (http://www.tblofmi.com) or just give the officer on patrol a smile and friendly wave.
For all the officers, deputies, troopers and agents who protect us: Thank you and stay safe.
Lock it up, don't leave it unattended, be aware and watch out for your neighbors.
Rich Kinsey is a retired Ann Arbor police detective sergeant who now blogs about crime and safety for AnnArbor.com.