Posted on
Sun, Jun 9, 2013 : 5:59 a.m.
New district represents best hope for the school system Ypsilanti deserves
By AnnArbor.com Staff
Daniel Brenner | AnnArbor.com
Last week marked the end of two Washtenaw County school districts with proud traditions. Willow Run, a district indelibly linked with the World War II can-do spirit of Rosie the Riveter and the planes produced at the Willow Run bomber plant, and Ypsilanti Public Schools, with a history stretching back more than 160 years, both marked their last school day Friday.
But while the symbolic end of the two districts may be sad to contemplate, the birth of the Ypsilanti Community Schools, a consolidated district that will officially launch on July 1, is something to celebrate.
We applaud the residents of both districts for making the tough decision in November to consolidate, and we applaud the leadership of the new district for making tough decisions that we hope will ultimately lead to the strong and vibrant public school system the community deserves.
That's something that hasn't existed in Ypsilanti or Willow Run for a long time. Both districts have a long history of declining enrollment and lack of achievement. Both faced insurmountable deficits that put them at risk of takeover by the state. The new district will assume the districts' combined $13 million debt but hopes to be able to pay it off over 20 years.
As many other school districts in Michigan face a difficult school-funding climate that has already resulted in Albion schools closing its high school and Buena Vista schools shutting down for two weeks, a successful launch of the Ypsilanti Community Schools could serve as a model for other consolidations across the state.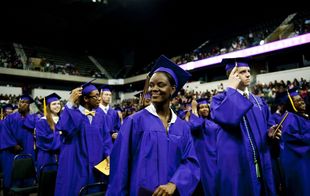 We're encouraged by the plans the leaders of the new Ypsilanti Community Schools have put forth, including a goal to provide cradle-to-career education for students and building a safe and stimulating learning environment to foster achievement.
We're also impressed with the passion of Washtenaw Intermediate School District Superintendent Scott Menzel, who is leading the district at least through its first year. He summed up the stakes in Ypsilanti this way:
"No kid should be denied a high-quality education because they live on the east side of U.S. 23. It's important for Washtenaw County and it's important for the state."