Posted on
Sun, Feb 3, 2013 : 8 a.m.
Passion, fear play key roles in gun control arguments
By Robert Faber
One of the very early concerns of our new nation a bit more than two centuries ago was how to meet the threat of a hostile adversary, perhaps even the reemergence of an England seeking revenge. Given the fragility of our infant state and its almost non-existent military might, our Founders understood that "A well-regulated Militia [was] necessary to the security of a free State," therefor adding the 2nd Amendment to our Constitution asserting "the right of the people to keep and bear Arms . . . " — a right still in effect and still protected by our nation's most sacred document.
Since those early days we have established an Army and Navy to protect our rights and developed tanks and battleships and military aircraft to further assist them in those duties. Nevertheless, the ruling of that 2nd Amendment allowing civilians to bear arms still remains an undisputed right.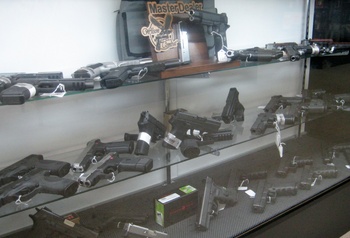 Laura Blodgett | For AnnArbor.com
That should be enough to relieve the concerns of the most impassioned gun owners, but seems not to be. The charge by today's pro-gun lobbyists accusing our nation's political leadership of treasonous intentions to confiscate everyone's guns, is offensive, not only to our leadership, but to the integrity of our system of government. That fear of being out-gunned by an antagonistic nation is now more a reflection of the business-oriented tactics of today's gun manufacturers than as a serious concern over dangers accompanying the loss of private weapons. Accusing our public officials of trying to subvert the Constitution by confiscating all privately-owned guns is a serious and fanciful insult to our traditions, to our leadership and to the essence of our democratic system.
The gun lobby's contention, or more specifically the NRA's, seems to be that guns should be free of restrictions, that magazines (containers holding the ammunition) should be unlimited in capacity and that time between shots should be as nearly instantaneous as possible. The alleged purpose of privately owned guns always had been either for personal protection or as a sport, using them for target shooting or in hunting. In view of its intended end use it is a bit difficult to comprehend the connection between the love of guns and the demand for their most deadly and extreme capabilities.
Demand for the downgrading or elimination of all legal gun restrictions should be measured against the use of the automobile. Cars, fully accepted as an essential part of the routines of our daily lives, receive no special legal or constitutional consideration. Even with such universal acceptance we still impose speed limits, and have instituted seat belt requirements, and have forbidden driving while under the influence of alcohol, and demand regular physical check-ups well into old age. In short, public safety remains a major component of driving regulations. Why should guns be exempt?
Underlying today's vitriolic discussions of "citizens' rights" and "democratic principles" and "constitutional protection" is the passion for and the fear of guns. The role of guns has an old and very colorful place in our nation's history, but in the centuries since the settling of the West our history has changed. The necessity of protecting our homes and families from the lawless chaos of that period's Wild West, or from the impassioned revenge of some of our cruelly displaced American Indians, escalated the gun trade to the often singular role of protector of the law.
But those days have faded. Now we too often find ourselves seeking protection from our untrained, heavily armed neighbors - and that is a level of security that can be as deadly as the crime.